New on the Tauern Cycle Trail – Stadt Hotel Oberndorf
23.07.2021: Last year, this new boutique hotel opened in the heart of Oberndorf and also ideal for guests on the Tauern Cycle Trail.
Win a free night, because we are now giving away a night for 2 people in the new hotel! Simply send an email to info@salzburgerland.com with the subject "One night in the Stadthotel Oberndorf for me" by 30.08.2021 – and with a bit of luck you can already test a night in the new Stadthotel Oberndorf for free in September, or later!
News: Tauern Cycle Trail is again passable
21.07.2021: After the flooding there were temporary restrictions in the passability of the Tauern Cycle Trail. Now, the Tauern Cycle Trail is unblocked again, although locally there may still be some small detours.
Train travel from Zell am See to Krimml: www.pinzgauerlokalbahn.at. However, the Pinzgauer local train service between Niedernsill and Krimml is closed after the flooding and a rail replacement service with buses has been set up to cover this. These buses however cannot take bicycles, but with two exceptions – on the train/bus at 10:00 and 15:00 from Zell am See bicycle transport is possible with pre-registration at Tel.: +43 6562 40600, details at www.pinzgauerlokalbahn.at. Alternative bike transport options from Zell am See or Niedernsill to Krimml are available, for example, on request from Radtaxi Altenberger, Tel.: +43 664 4582717, taxi-altenberger@sbg.at.
News: Roadworks on the Tauern Cycle Trail
10.06.2021 Roadworks are currently causing obstructions on the Tauern Cycle Path between Schwarzach and St. Johann in Salzburg as well as Werfen and Golling.
The Tauern Cycle Trail along the Salzach River between Schwarzach and St. Johann in Salzburg is closed until 28th August for the replacement of a railroad bridge. The signposted alternative route leads via Grafenhof-Dorf, Hohe Mauer, Naglerweg and Halldorf to the southern Salzach bridge in St. Johann in Salzburg.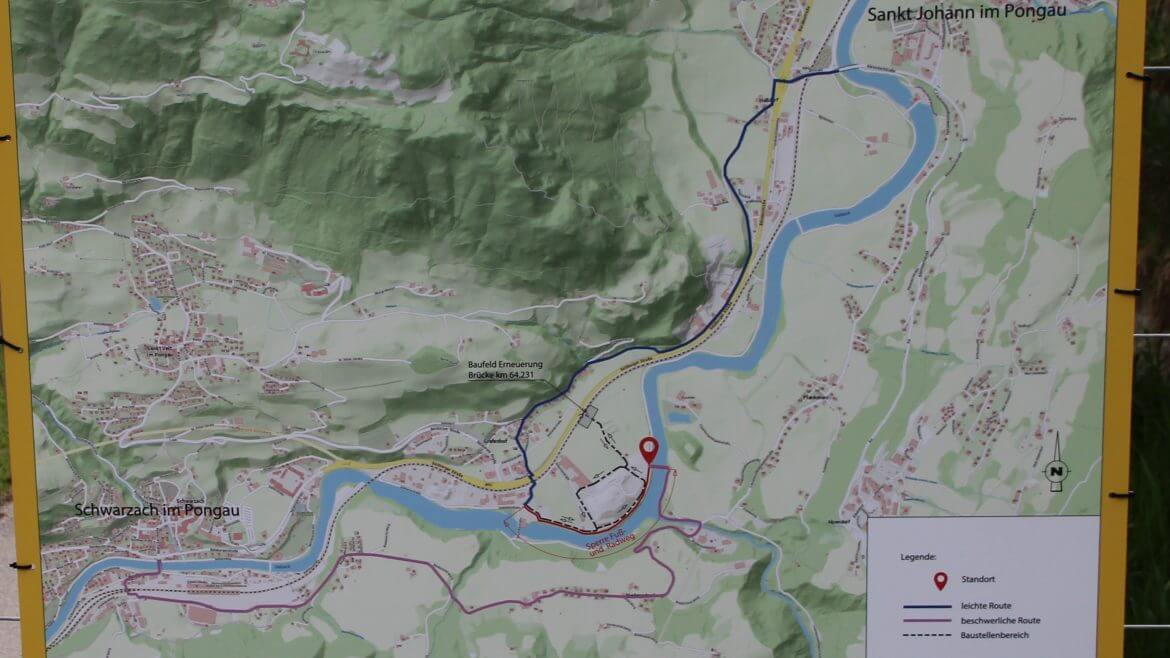 Between Werfen and Pass Lueg (Golling) there is construction work on a bridge on the B 159 (general renovation of the Aschauer Bridge), over which The Tauern Cycle Path also passes. During the construction work until mid-December 2021, one lane is closed at a time, traffic is regulated by traffic lights (the length of the single-lane traffic route is approx. 350 m). Here, we recommend switching to the train. Between Werfen train station and Golling-Abtenau train station there are two connections per hour with bicycle transport: www.oebb.at (between Tenneck train station and Golling-Abtenau train station one connection per hour).
Roadworks are currently leading to delays on the Alpe Adria Cycle Path between Golling and Werfen (Stage 1) as well as between St. Johann in Salzburg and Schwarzach (Stage 2). At Pass Lueg, the B159 and therefore the Alpe Adria Cycle Path will be closed for several days due to work on the new 380kV Salzburg line. A free Bike Transfer will be available during the closure, which will run at least every hour. The collection points are at the Hotel Pass Lueg (in the North) and at Gasthaus Stegenwald (in the South).
The next closure in detail:
Thursday 17th to Saturday 19th June, 07:00 to 19:00
Monday 19th to Thursday 22nd July, 07:00 to 19:00
Tuesday 27th to Friday 30th July, 07:00 to 19:00
Monday 2nd to Friday 6th August, 07:00 to 19:00
Monday 9th to Thursday 12th August, 07:00 to 19:00
Monday 16th to Friday 20th August, 07:00 to 19:00
Saturday 2nd to Friday 8th October, 07:00 to 18:00
Saturday 23rd to Friday 29th October, 07:00 to 18:00
Tuesday 16th to Thursday 18th, 07:00 to 17:00
Note: Access to the Salzach Gorge (from Pass Lueg) will still be possible as the entry to Pass Lueg from Golling is always open.
New City Thoroughfare in Hallein
In the course of the re-paving of the old town of Hallein, a new direct route through the historic old town of Hallein was made for cyclists on the Tauern Cycle Trail. From spring 2019, you will be able to cycle directly from the Bayrhamer-Platz across the Kornsteinplatz to Pfannhauserplatz directly in front of the Celtic Museum Hallein.

200 Years of Silent Night! Holy Night!
In Oberndorf near Salzburg, on 24th December, 1818 Joseph Mohr and Franz Xaver Gruber sang "Silent Night! Holy Night!" for the very first time. The lyrics came from the young Salzburger Pastor, Mohr, with the melody being composed by the Upper Austrian teacher and organist, Gruber. Two hundred years later, the song is sung by some two billion people in more than 300 languages and dialects around the world. "Silent Night! Holy Night!" is a UNESCO World Heritage piece and world peace song, international heritage and musical heritage piece. The big anniversary was being celebrated in 2018 in many Silent Night Towns, with museum openings, special exhibitions, a new stage play and numerous events.
Three Silent Night Towns are located directly on the Tauern Cycle Trail:
The town where it was first played – Oberndorf near Salzburg with the Silent Night Chapel and new Silent Night Museum.
The salt city of Hallein, where Franz Xaver Gruber lived and worked for 28 years, with the newly designed Franz Xaver Gruber Platz and the new Silent Night Museum which opened in September 2018.
And finally the City of Salzburg, the focal point of the national exhibition "200 Years of Silent Night! Holy Night!" – Austria's message of peace to the world.