For over 15 years, the 350 kilometre long Salzburg Alpine Trail has been one of the most popular long-distance hiking trails in SalzburgerLand. It connects all 25 towns in Salzburg's Pongau region across 25 stages, and leads to over 120 managed alpine huts, many of which are certified alpine summer huts. On the alpine pastures, hikers are traditionally spoiled with homemade delicacies. Cow's milk is processed into butter, cheese and curd. These products, in turn, form the basis for cheese snacks and Ploughman's lunches, doughnuts, cakes and many other alpine delicacies. From summer 2022, there will be designated "Alpine Trail Delicacies" in numerous huts along the Salzburg Alpine Trail. These dishes are the respective figurehead of each alpine hut and guarantee culinary diversity during long-distance hikes.
A snack never tastes better than after a walk of several hours, and on the Salzburg Alpine Trail you can, if you want, hike far and long. The 350 kilometre round trip with start and finish in Pfarrwerfen leads through well-known holiday regions such as the Hochkönig region, the Salzburger Sonnenterrasse, the Gastein Valley, the Grossarltal, the Salzburger Sportwelt, the Tennengebirge and other towns in Pongau. The 25 Pongau towns with their idyllic alpine pastures are really appreciated by guests not only for their high level of hiking competence, but also for their culinary delights. Many of the alpine huts along the Salzburg Alpine Trail are certified alpine summer huts and are managed in a particularly authentic way. But all other huts are also committed to tradition and invite you for real alpine enjoyment.
Alpine cuisine as a figurehead of "Alpine cuisine" on the Alpine Trail
During the Salzburg Alpine Summer, the alpine people serve "Alpine cuisine" in its purest form. Fresh milk from cows and goats is spun daily and turned into alpine butter, curd and various cheeses the following day. Sausages, meat and bacon also often come from their own alpine pigs or cattle. Cheese has a very special significance here. The variety is enormous and ranges from herb cream cheese to grey and round cheese, to hard cheese, alpine mozzarella or alpine parmesan. Cakes, doughnuts and Pofesen are baked for the sweet tooths among hikers, while Kaiserschmarrn, Buchteln and Schwarzbeernocken also provide a sweet finish. Ingredients are often self-collected from the forests and meadows and then traditionally processed. Blackberries and cranberries are boiled into jam, while mint, elderberry or key flowers are processed into syrup, and rowanberries and pine cones make wonderful liqueurs and schnapps.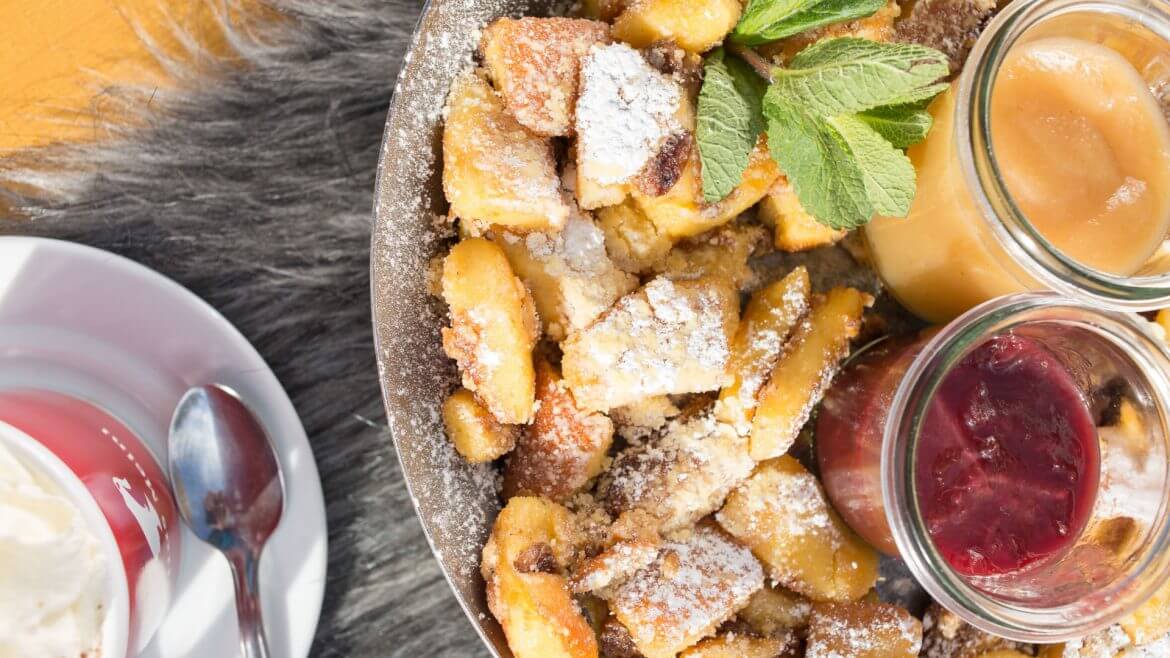 © Gasteinertal Tourismus GmbH, Marktl – Hut cuisine Jungerstube
Cooking without electricity, but with a lot of love
You should also pay attention to the circumstances in which these alpine delicacies are prepared, as the huts are for the most part still very primitively equipped. Instead of cooking on a modern electric stove, cooking is done on a traditional wood stove. This requires a lot of skill, experience and tact, for example when the doughnuts have to dance in the hot fat to get a perfect gold-yellow colour. When milking, a generator is used due to the lack of power lines and in many cases the cheese boiler is still fired with wood.
Hundreds of hand movements are needed to serve hikers with delicious snacks. All this is only possible because the Salzburg farmers and alpine people honour the heritage of their ancestors and keep the huts open during the alpine summer. And because they are conscious of tradition and have very close ties to home. In this way, they contribute to the preservation of alpine pastures as an important alpine cultural area. Nowhere else are there more alpine pastures than in SalzburgerLand. And so the culinary diversity is nowhere greater than here.
The "Signature Dishes" of the huts on Salzburg Alpine Trail
"What is your 'Alpine Trail Delicacy'?", this hiker's question will be answered clearly from summer 2022 on. Because each of the alpine huts has chosen its specialities and a special dish as an "Alpine Trail Delicacy". Some alpine pastures have a fish pond, elsewhere the farmer is also a hunter, but always the cows with their milk provide the most important ingredient for these traditional dishes. Most huts do not have a hospitality concession and this means that they are only allowed to process and sell what they produce themselves. Hot dishes are also often rare due to the lack of electricity. Nevertheless, the variety is great. The alpine people are happy to greet both hungry and also interested guests, and in some places you can watch the milk processing or cheese making. In any case, you can enjoy this everywhere as the ingredients come from their own alpine pasture, own farm and from the region. The recipes are often ancient and have been passed down from generation to generation. Hikers can recognise the "Alpine Trail Delicacies" by the marking in the menu or on the hut wall. If nothing is visible there, you should ask – because the "Alpine Trail Delicacies" are after all the best of the best that is served at the respective huts.