Tempted? Here are some of the most prestigious and challenging sporting events that this region offers. You will be sure to find the right one for you.
Triathlons
The triathlon event must, without doubt, be one of the most demanding and most athletic forms of sports there is. Incredibly high standards are demanded from athletes in three completely different types of activity. After cycling and swimming substantial distances it can feel as though you're being asked for superhuman strengths to then run the rest of it. Without a doubt, there can't be a better feeling than when you cross that finishing line knowing that you have pushed yourself to your limits and conquered your goals.  
Jump on your bike, pack up your running shoes and swimming costume and embark on your triathlon in SalzburgerLand.
Trimotion Saalfelden
This triathlon in Saalfelden in May is incredibly popular event with participants and spectators alike. This is partly of a result of the breath-taking route which takes in almost unbroken spectacular views of the Alps. The programme of events ensures that there is something for everyone, and every year brings about its new challenges. You can just tell that this sport is integral to this area.
Wolfgangsee Challenge
This cross triathlon in June is one of the most challenging competitions of the entire season and demands everything from its participants. This X-Challenge triathlon takes place over the course of two days in the beautiful area around the Wolfgangsee Lake. The event consists of a classic triathlon with an Olympic distance, a cross triathlon and sprint.
Top Race Uttendorf
The cross triathlon takes place in June in Uttendorf im Pinzgau. You can expect 600m swimming, 19km biking and 7.8km running over hill and dale. Participants must have stamina and be incredibly fit. Regardless of whether runners are at the top of their game or just setting themselves a personal challenge, the spectators cheer every participant along and help them reach the end.
SOCIALMAN
As well as being an incredibly challenging triathlon, SOCIALMAN serves as a fundraising event in July for young parathletes and socially disadvantaged people. Expect a 5km swim, 185km bike ride and 25km mountain run with 4,900vm, all of which make it one of the hardest one-day long-distance triathlons worldwide. The start is at Grundlsee in Styria, and the end Hochtor on the border between Salzburg and Carinthia, near to the Grossglockner.
Trumer Triathlon in Obertrum
Trumer triathlon and festival in July has so much going for it. You can swim through the wonderful Lake Obertrum, take a hilly bike ride through the Salzburg Lake disctrict and end up on the challenging running track through and around Obertrum. What more could you possibly want from your triathlon? The fringe events round this event off. This truly must be one of the highlights on SalzburgerLand's event calendar.
Ironman 70,3
At the end of August the crème-de-la-crème of the triathlon world meets every year for the Ironman 70.3. The event takes place in the middle of the glorious Lake Zell landscape, and surrounded by Austria's highest mountains and the soft, undulating hills of the region. This particular event separates the wheat from the chaff, and 35 slots are reserved for the Ironman 70.3 World Championship. You'll need to complete 1.9km swimming, 90km cycling and 21.1km running. No problem? Sign yourself up here…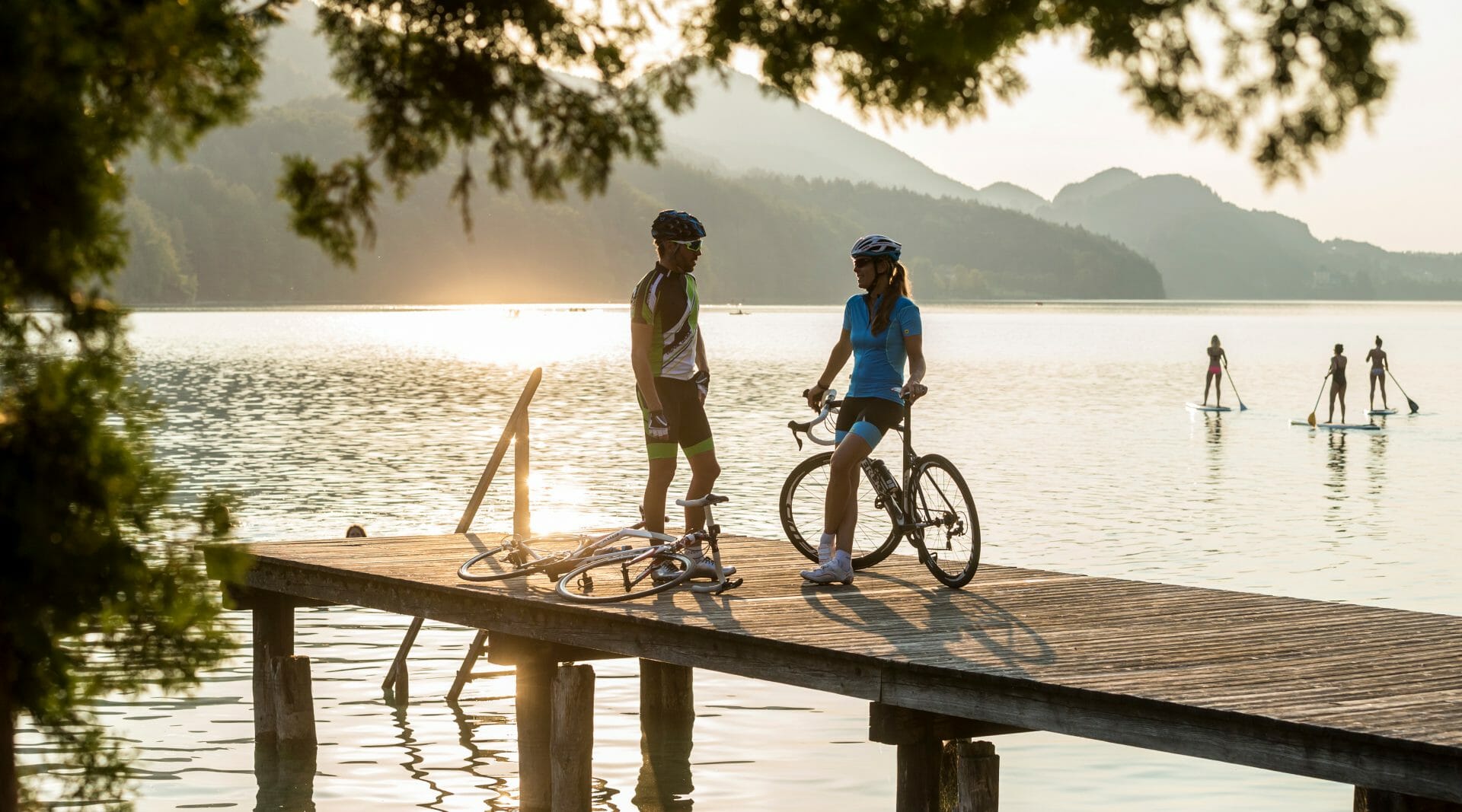 ©SalzburgerLand
Roadbike Races
If you specialise in cycling and prefer not to mix it with running and swimming, look no further than this selection of premium bike races.
The Alpencup: three races, one winner
The Alpen Cup is a series of three races, consisting of the Amadé Bike Marathon, Mondsee 5 Lakes Cycling Marathon and Eddy Merckx Classic Bike Marathon. It is already in its 15th year in 2018, and continues to grow in popularity year on year.
The Amadé Bike Marathon
You can embark upon a challenging roudbike ride in May with a distance of either 146km or 95km every May, in and around the mountains of Pongau and Tennengau. A range of ascents and dangerous descents demand everything from the participants and make it to absolute classic in the annual racing  calander. The participants are rewarded with fantastic panoramic views of the Dachstein, Bischofsmütze and imposing Tauern mountains. Two different routes ensure that really anybody can take place – from absolute beginners to professionals.
Long route: 146km, 2,221 vm
Short route: 95 km, 1,535 vm
Starting line and destination: Radstadt
The Mondsee 5 Lakes Bike Marathon
Every June thousands of cycling enthusiasts flock to Mondsee and the Salzkammergut Lake becomes the centre of the sports cycling world. Four routes can be chosen by around 2,000 participants and this ensures that everybody can start the race. Those who want to be in with a chance of winning the Alpencup needs to master the large loop, which takes them through the racing bike region SalzburgerLand – Salzkammergut, along the Wolfgangsee, Hallstättersee, Traunsee, Attersee and Mondsee.
Tour A: 200 km, 2,300vm
Tour B: 134 km, 1,150vm
Tour C: 75 km, 400vm
Tour D: 25 km, little vm
Begins and ends at Mondsee
Eddy Merckx Classic Roadbike Marathon
The Belgian Racing Bike Professional is a perennial fan of SalzburgerLand, and since he took his first tours through the Salzburg Lake District, the region has held him in particular esteem. It therefore stands to reason that the ever-popular biking legend should have his own race dedicated to him. Next time in September for the 13th time cycling enthusiasts will once again participate in a very unique race through the lake district, the Eddy Merckx Classic Roadbike Marathon. Starting out in Fuschl, it passes Mondsee and Salzburg, before returning to its starting point. This race is the jewel in the crown of the racing season for many and it proves the exciting final of the bike marathon series for those participating in the Alpencup.
Wheel-to-wheel with the legends in 3 different routes:
Short route: 63 km, 918 vm
Medium route: 106km, 1,593 vm
Long route: 169km, 2,609 vm
Handbike
Short route: 20km, 256 vm
Long route: 63km, 918 vm.
Begins and ends at Fuschl