Marcel Hirscher's farewell to Ski Racing

A big thank you to the world's best skier and SalzburgerLand ambassador
Marcel Hirscher once said with a wink – "Skiing is the only thing I can do really well. That's why I do it." The audience loved him for this kind comment. He has always remained who he was – someone who preferred to be on skis and always give everything to win the race against himself, the time and the competition.
This Tennengauer, whose mother comes from the Netherlands, gave skiing fans both home and abroad an almost uninterrupted reason to celebrate during his career. Because Marcel Hirscher, who defined himself as a "racer" and "fast driver", did just that – ski fast and win! And that with nerves of steel that at times seemed almost superhuman.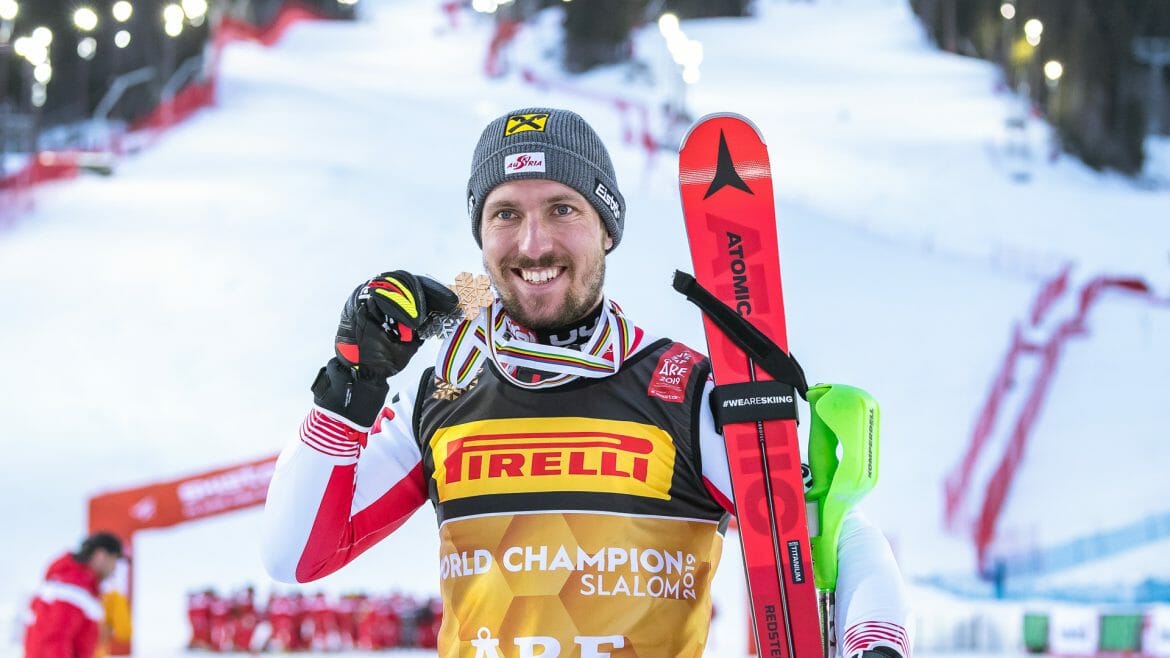 © Erich Spiess – Successful Season 2018/19
An incredible winning streak

The Annaberger has won the overall World Cup eight times in a row. This shows the extent of his success – in the end, there were also six slalom world cups, six giant slalom world cups, two Olympic victories and an Olympic silver, seven world titles and four runner-up world titles, 67 world cup victories and 138 podium places within a total of 245 starts. Marcel Hirscher has not only broken all the records, but he has set new and at the same time almost unimaginable ones.
For many athletes and friends of Alpine skiing, he is considered the best skier of all time. For example, former skier and also highly successful skier Annemarie Moser-Pröll from Kleinarl said about Marcel Hirscher – "Sensational, just sensational. What Marcel has been doing for many years cannot simply be described in words."
Salzburg's mountains laid the foundation for an exceptional career
Growing up in Annaberg, Marcel Hirscher spent a lot of time in nature and in the mountains. These were the foundation for his amazing career from the very beginning. A video, which can still be seen on YouTube today, shows the world record holder as a little nipper shooting over the slopes of his homeland. The family spent many summers together on the Stuhlalm, whose tenants were Marcel Hirscher's parents Ferdinand and Sylvia. It was also his parents who supported Marcel from childhood and nurtured his love of perfectionism, ambition and diligence. But also, his mental strength, which Marcel Hirscher repeatedly described as a great gift, as well as his talent. After primary and secondary school, the Annaberger attended the Higher School of Tourism and Ski in Bad Hofgastein. Dr. Maria Wiesinger, Headmistress of the Bad Hofgastein Tourism Schools, recalls his school time. "Marcel Hirscher was already mentioned by the ski association as a real exceptional talent." By then, the teenager had long since decided what his future should look like – "My dad asked me as a 12-year-old, "Do you really want this?" and I said "yes". From that day on, sport was paramount to everything else and my priorities were clearly set."
An incomparable career
Marcel Hirscher has always remained true to himself and his sport. His most important advisor and closest coach remained his father Ferdinand for all these years, who supported his son as a mentor and with his incomparable feeling for the snow. For Marcel Hirscher, the hunt for records was secondary until the very end. For him, as he always emphasised, it was the next victory that spurred him on and motivated him. He focussed on the next race and laying down the best of all ski runs. Already at the end of the 2018 season, Marcel Hirscher publicly doubted whether he could continue to practice the sport at the level he had set. He admitted how much he felt his body required regeneration and the recovery time over the summer would be scarce. The wedding to his wife Laura and the birth of his son in autumn 2018 also brought family changes. Marcel Hirscher refocused himself and still had one of the best seasons of his career.
"My life revolves around SalzburgerLand. It is my home and I'm not willing to leave this beautiful piece of the earth."
More time for the homeland – SalzburgerLand ambassador Marcel Hirscher
In autumn 2019, this exceptional athlete finally drew the line under his active racing. He stressed how important it was for him to stop skiing in a good and above all healthy condition and thus to be fit for everything that lies ahead. Whatever it will be! His fans want the Salzburger to remain true to skiing in some way. Marcel Hirscher himself will definitely have more time to enjoy the beauty and possibilities in his homeland. And at any time of the year, even in winter! The SalzburgerLand ambassador still lives in the Lammer Valley and has remained true to his roots to this day. The mountains, the Alpine pastures, the rivers, the slopes – all this he has known since childhood and this is the landscape that has shaped him and made him what he is today. One of the best skiers the world has ever seen.
A skier of the century who rewrote the history of Alpine skiing
Marcel Hirscher is the only skier who has ever managed to win the overall World Cup eight times in a row. Annemarie Moser-Pröll from Salzburg did it six times
Marcel Hirscher has won 20 crystal trophies in total
In the 2018/19 season, Marcel Hirscher outdid the Austrian record of Annemarie Moser-Pröll. The Salzburg native was the Austrian record holder with her 62 World Cup victories. Marcel Hirscher has now hit 67 wins
Marcel Hirscher is a two-time Olympic winner, seven-time world champion and four-time runner-up

So far, Marcel Hirscher has been voted "Sportsman of the Year" five times
Further awards – Marcel Hirscher received the Grand Decoration of Merit of the State of Salzburg (2012) as well as the Grand Decoration of Honour of the State of Salzburg (2018), was awarded with the Grand Decoration of Honour for Services to the Republic of Austria (2016) and was named World Sportsman of the Year in 2018 (L'Equipe) and Eurosport's Sportsman of the Year.
"The combination of overwhelming mountains, fantastic slopes, exceptional offers and cosy hospitality make my home unique!"
All year round – Marcel Hirscher's favourite places in SalzburgerLand: