Whether summer or winter, after an alpine hike or during a stop for refreshments: all kinds of delicacies are served at the mountain huts high up in SalzburgerLand. In addition to self-made specialities such as farmhouse bread, cheese creations as well as self-distilled schnapps, hut proprietors also serve regional dishes. One example is Pinzgauer Kasnockn (pasta-shaped dumplings with cheese & onions): wonderfully spicy and preferably served in an iron pan.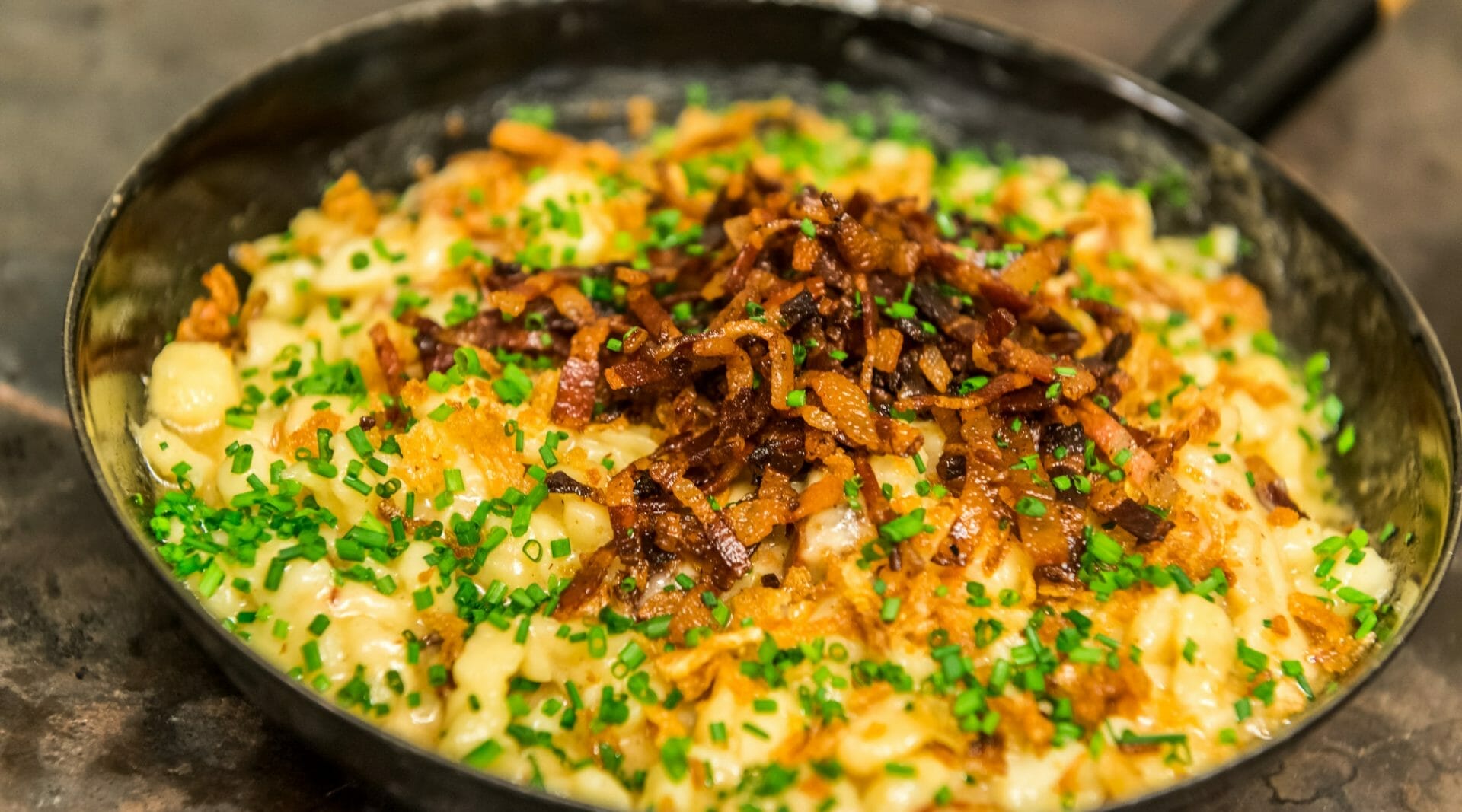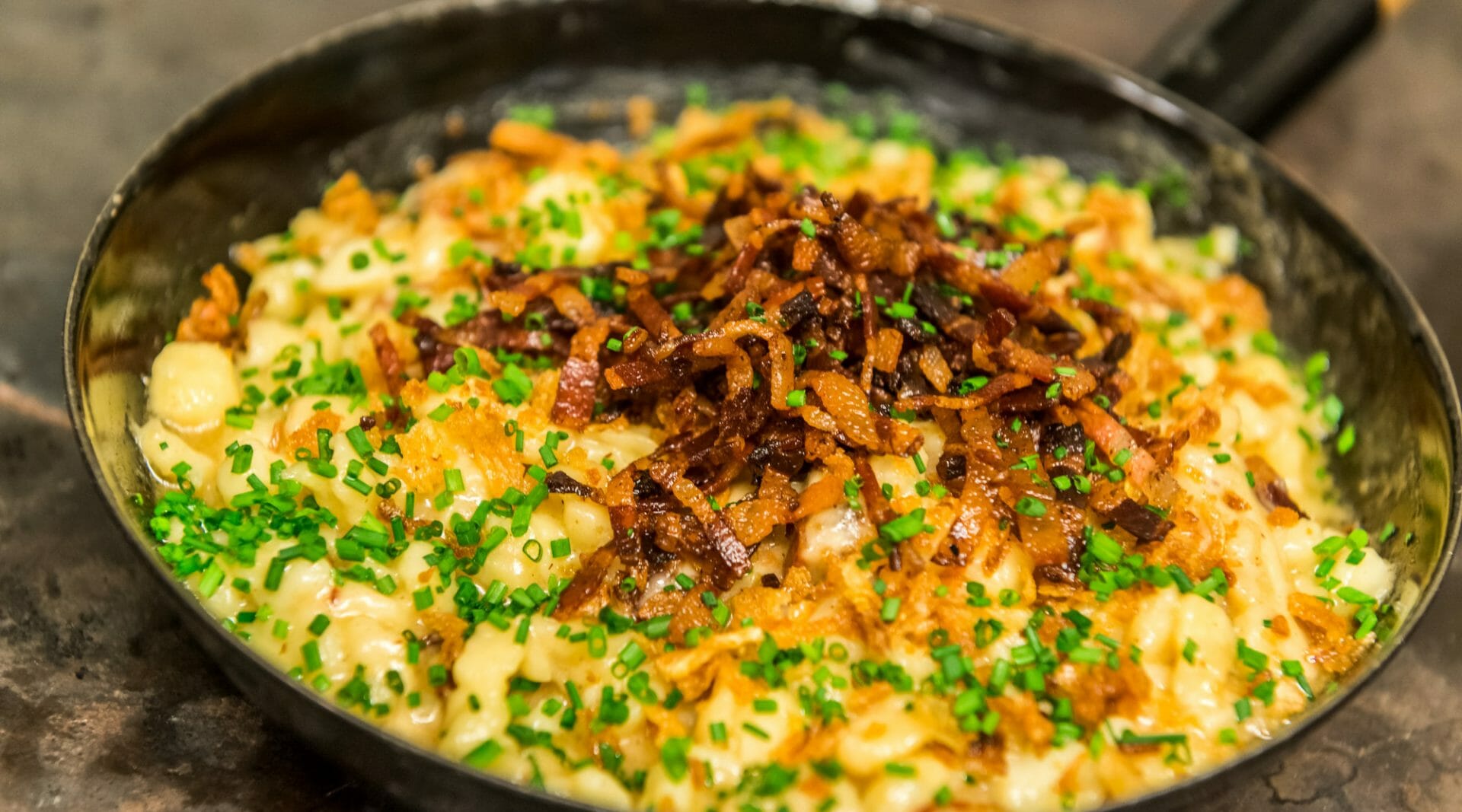 How does the genuine dish Pinzgauer Kasnockn come off so well? We have a copy of the original recipe for you:
Ingredients:
250 g flour
2 eggs
1/8 l water
1/8 l milk
30 g butter
100 g finely diced onions
150 ml clear vegetable soup
200 g Pinzgau beer cheese ("Biakaas")
30 g browned butter
100 g finely chopped onion
1 handful of chives
Salt
Preparation
Quickly stir eggs, milk, water and some salt with a cooking spoon to make smooth dough. Allow the dough to rest for a few minutes. After that, scrape the dough through a coarsely porous sieve (or through a grater held upside down!) in boiling salted water. Briefly boil until the dumplings (Nockerl) float to the surface. Heat the butter in an iron pan. First sauté the diced onion, and then add the dumplings to the pan and deglaze with vegetable soup. Finely dice the cheese, add to the pan and brown well. In another pan, brown the onion (sliced into fine strips) in brown butter. Before serving the Kasnockn, strew the dish with the browned onion and lots of fresh chives. Serve the Kasnockn immediately in the pan – preferably with a green salad as a side dish!
Three local mountains as dessert
The sweet dumplings known as Salzburger Nockerl are probably the most popular dessert among Salzburg residents and visitors. This fine beaten egg white soufflé tickles the palate so sinfully sweet! You should readily water a few minutes longer for this dish. After all, the dumplings are only made on order. And they are also eaten immediately, or else they collapse like a sweet whiff of nothing.
Salzburg residents know about the importance of feasts, customs and traditions. This awareness can be felt in the city and province of Salzburg, and every festivity is accompanied by traditional dishes. In particular, traditional recipes and dishes once again have their well-deserved appearance around the Easter and Christmas holidays. People celebrate, eat and drink together at the table with delicacies that are time-honoured and unmistakable.
Making the delicious Salzburger Nockerl requires a bit of skill!
Ingredients for 3 large Nockerl:
7 egg whites
100 g granulated sugar
2 egg yolks
20 g cake flour
1 tbsp. vanilla sugar
Butter for coating
Powdered sugar for sprinkling
Preparation:
Beat egg whites until stiff, and stir in granulated sugar in the process. Also add vanilla sugar and egg yolks, and stir. Carefully fold in the flour. Fill the mass in a flat, buttered soufflé dish. Form pyramid-shaped Nockerl with a dough scraper. Bake in a preheated oven at 220 °C for 9 minutes. Sprinkle with powdered sugar and serve immediately.
Eastertide, the Feast of the Resurrection of Jesus Christ, heralds the end of the 40-day Lenten period. Nowadays fasting is no longer quite as strict as in former times. Instead, the pre-Easter period is seen as an occasion to settle down again, to live and to enjoy life self-consciously. This succeeds in a particularly delectable manner with the nine herb soup, as it is traditionally served on Maundy Thursday.
Then specialities such as Bachlkoch porridge, Easter ham and XXX are available for Easter.
The most attention is arguably paid to the dishes for Christmas season. In the contemplative Advent season, self-baked biscuits in all variations sweeten the waiting for Christmas. Then the delicious Christmas menu is served on 24 December.