The natural factors of SalzburgerLand are the best pre-requisites for a health-promoting and health-conscious life!
Daily stresses and strains push everyone at some point to their mental and physical limits. But before it is too late and your health is permanently damaged, it's time to pull the emergency brake!
Nothing is better suited for this than just to leave everything behind and enjoy a well deserved holiday. And where better to relax and to combat the impending Burnout than in the unforgettable surroundings of SalzburgerLand. The healthy mountain air with its climatic conditions, the healthy forces of the water and the diverse effects of the Alpine herbs do the rest.
How you recharge your batteries for everyday life is entirely up to you to decide. There is no lack of ideas and activities available in SalzburgerLand!
Whether hiking from hut to hut, or on one of the pilgrim paths, a summit tour or a cosy day trip – when hiking at your own pace, step by step, the meditative effects will be quickly realised. The senses are sharpened and the sight again becomes clear for the essential things. Up on the mountain, your worries seem far away. The best thing is to stay overnight in the mountain hut. The hut landlords and the Alpine herdsmen know how to tell exciting stories from their everyday life and love to pamper their guests with their home-made Alpine specialities.
Hut holidays in SalzburgerLand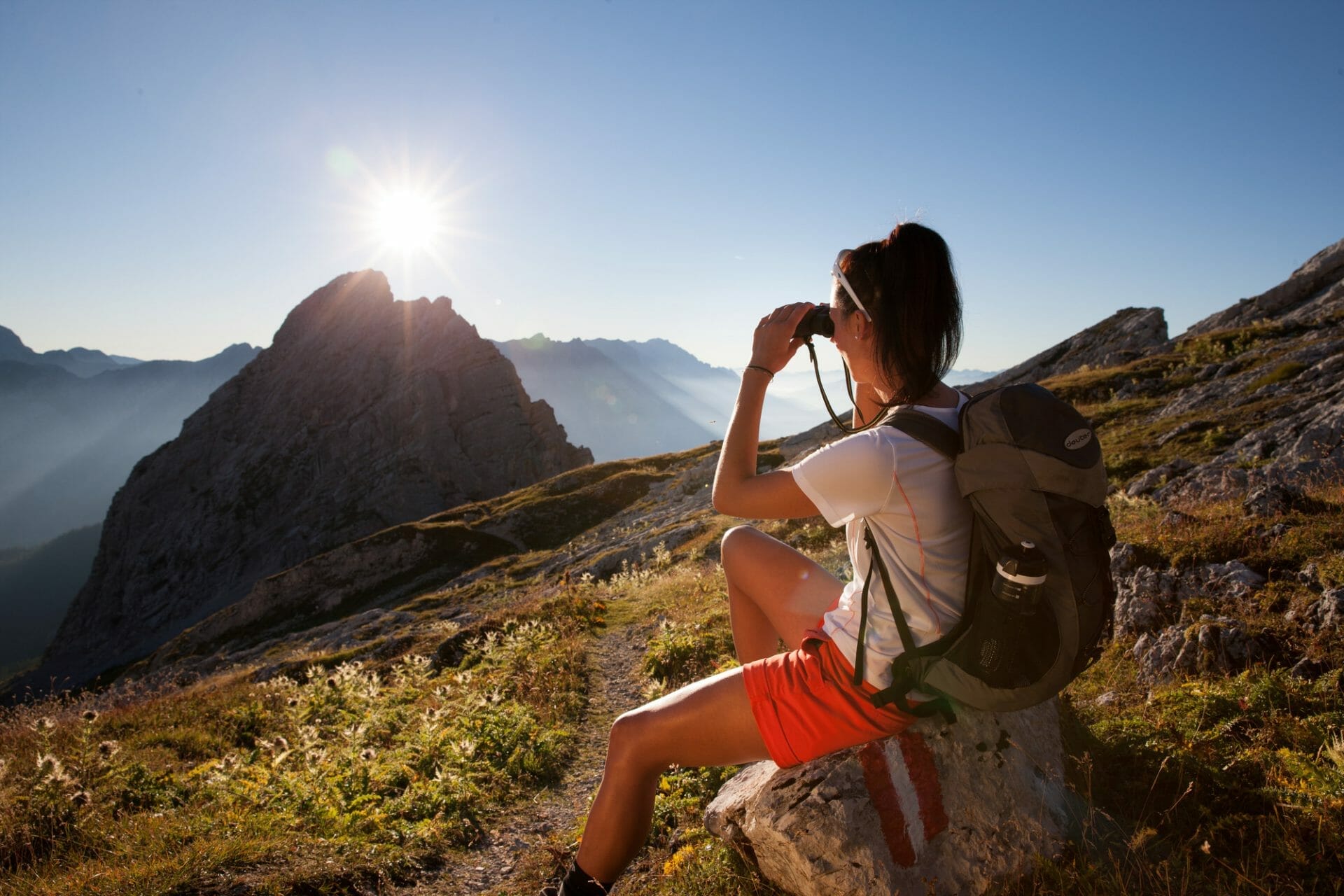 (c) SalzburgerLand Tourism – long hike on the Salzburger Almenweg
Tip: Whoever does not want to go without that certain luxury on a hut holiday, can rent one of the Salzburger Alpine village chalets.
On a farm holiday, one exchanges the suit and tie for jeans and rubber boots, and instead of frantically banging on the keys of the computer, clean out the barn armed with the hay fork. And for breakfast, instead of a rushed coffee standing up, there's a beautifully laid out table with home-made bread, creamy butter, fresh cow's milk and home-made fruit jams. Here, Burnout is a dirty word.
And here's another tip:
Did you know that many monasteries in SalzburgerLand will open their doors for guests?
A perpetually accompanying element in SalzburgerLand is water in all its various forms! Experience water…
… as a natural remedy against asthma and allergies… as healing thermal water
… as bubbling spring water
… as a happily splashing stream
… as a rushing waterfall
... as icy beauty
… as a crystal clear mountain lake
© AquaSalza relaxing thermal water
For those who can better relax in the Spa, there are lots of varied offers in SalzburgerLand! Massages, wraps, scrubs, sauna infusions, treatments or baths – depending on your wishes and preferences! Also here the natural remedies of the Alps are always in play.
Wellness and health in SalzburgerLand
The countless healing herbs play an extremely important role in the prevention of burnout and the associated health problems. A special initiative called TEH, for Traditional European Medicine, has set itself the goal to ensure that the old knowledge of the effects of herbs is not lost. In seminars, workshops, and herb gardens, this knowledge is passed on to interested guests.
Good to know…
…that also against stress-related symptoms such as stomach pain, nervous restlessness and sleep complaints there is a herb growing.
And when a physical problem has already appeared, SalzburgerLand has the best conditions for a stay at a health resort. From the famous Gastein Healing Caves with its natural Radon deposits, to the Krimmler waterfalls with the healthy spray mist. The natural conditions promise a permanently effective and relaxing stay.