#1 Seeing the world from above – paragliding in Werfenweng
While you fly down to the starting point during a skydive, you find your way back to the starting point yourself when paragliding. But anticipation and adrenaline levels rise in equal measure on the way, especially when you can watch others paragliding before your own flight. In SalzburgerLand, paragliders like to meet on Werfenweng's local mountain, the Bischling. No wonder, as here they find the ideal conditions for their passion. On the Bischling not only the thermals are right, but it is also in a protected position which catches the wind a little. And there is definitely something in terms of a view. From the Gosaukamm and the Bischofsmütze to the Grossglockner, not only does your canopy glide gently down into the valley here, but also your view. What does it look like when the Werfenweng sky calls? Here, we show you.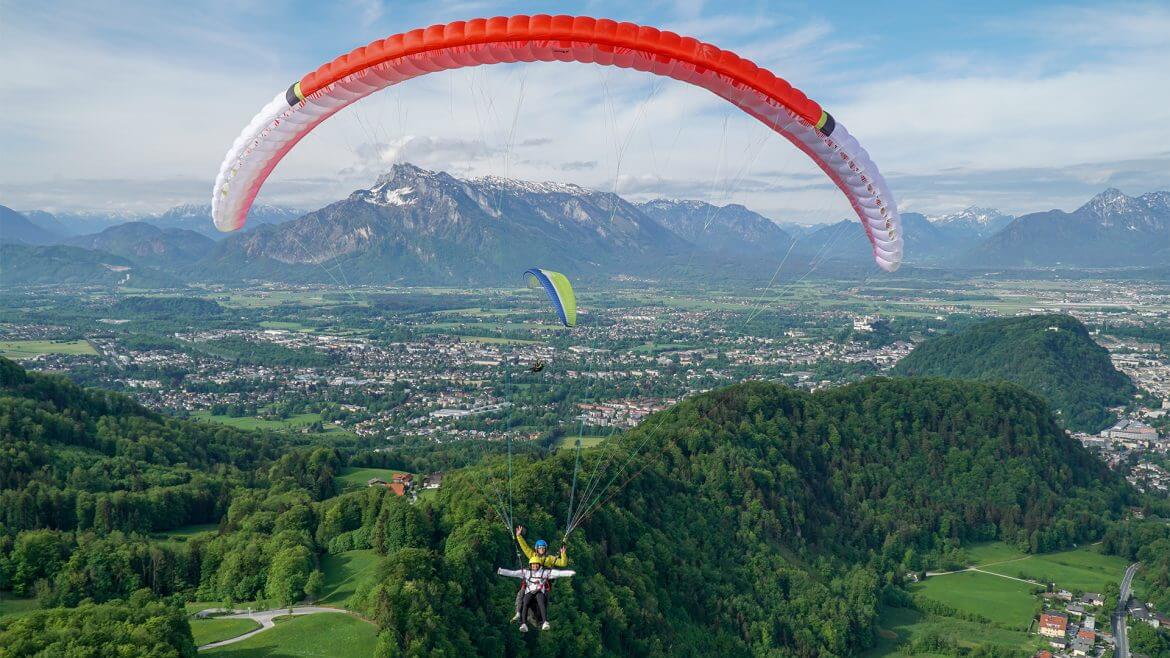 © www.flytandem.at – High above the rooftops of Werfenweng
#2 Record-breaking climbing tour – climbing the dam wall of the high mountain reservoirs
At around 2,040 metres above sea level, we are on equal footing with your adrenaline level. Up here are the Kaprun high mountain reservoirs which are embedded like two fjords in the midst of the Hohe Tauern in the Alps. Electricity has been generated here for many decades using hydropower. But not only that, as on the Via Ferrata MoBo 107 a load of excitement is generated as it leads to the top over 240 metres directly on the dam wall. As soon as the climbing harness has been applied and the carabiners have been fastened, you take a small flying fox to the entrance of the world's highest via ferrata on a dam. A 70 metre thick concrete wall now separates you from over 80 million cubic metres of water. If that's not impressive enough for you, why not tackle the demanding "swing" or enjoy the view of the surrounding peaks at the top of the dam. What does climbing on the dam feel like? Two Danish photographers report.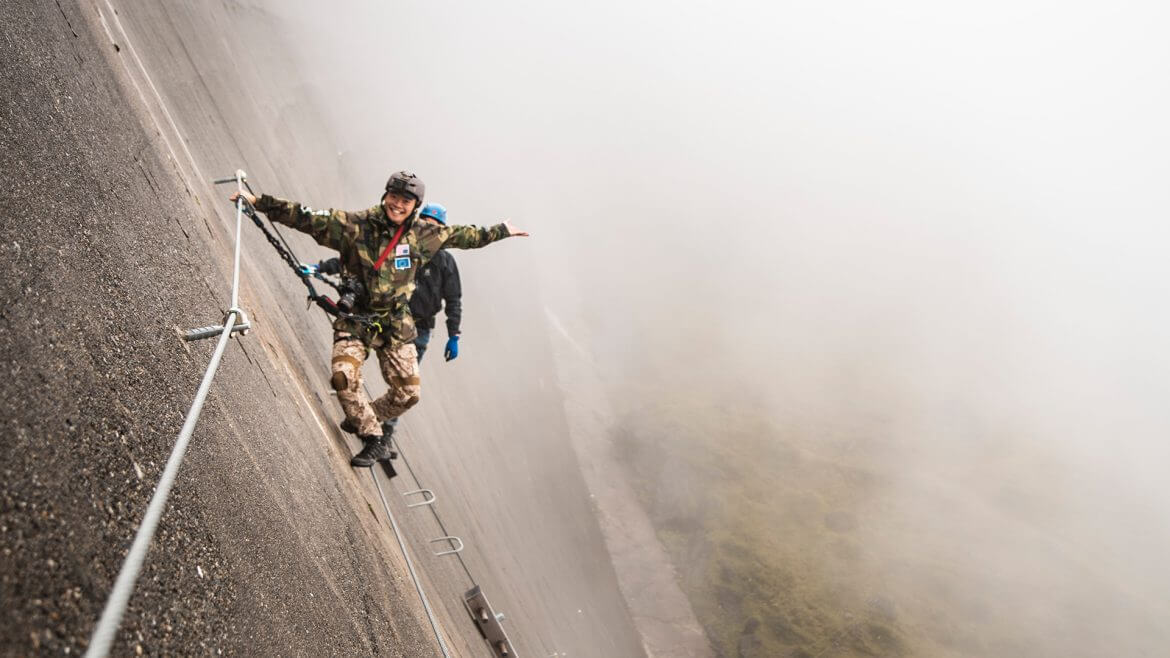 © SalzburgerLand Tourismus, Jonathan Forsthuber – The via ferrata MoBo 107 is not for the faint of heart
#3 Courses, zip lines, tests of courage – let off steam in Europe's largest high ropes park
We stay with climbing, but this time change the scene to the largest high ropes park in Europe. Off to Saalbach Hinterglemm! If you are ready for a mini-adventure right on arrival, jump on the valley train at the parking lot in Lengau and chug in a bright red engine over the forest road to the end of the valley, where the high ropes park is located. After a short induction, it's time to get down to work. You should plan enough time for this, as 200 different stations at a height of up to 40 metres and 30 zip lines await you over a total length of over eight kilometres. And for those who still want more, swing on the Mega Flying Fox and thunder down at up to 80 km/h at a height of 120 metres above the forest floor. Any Questions? By the way, there are also many other high ropes parks in SalzburgerLand.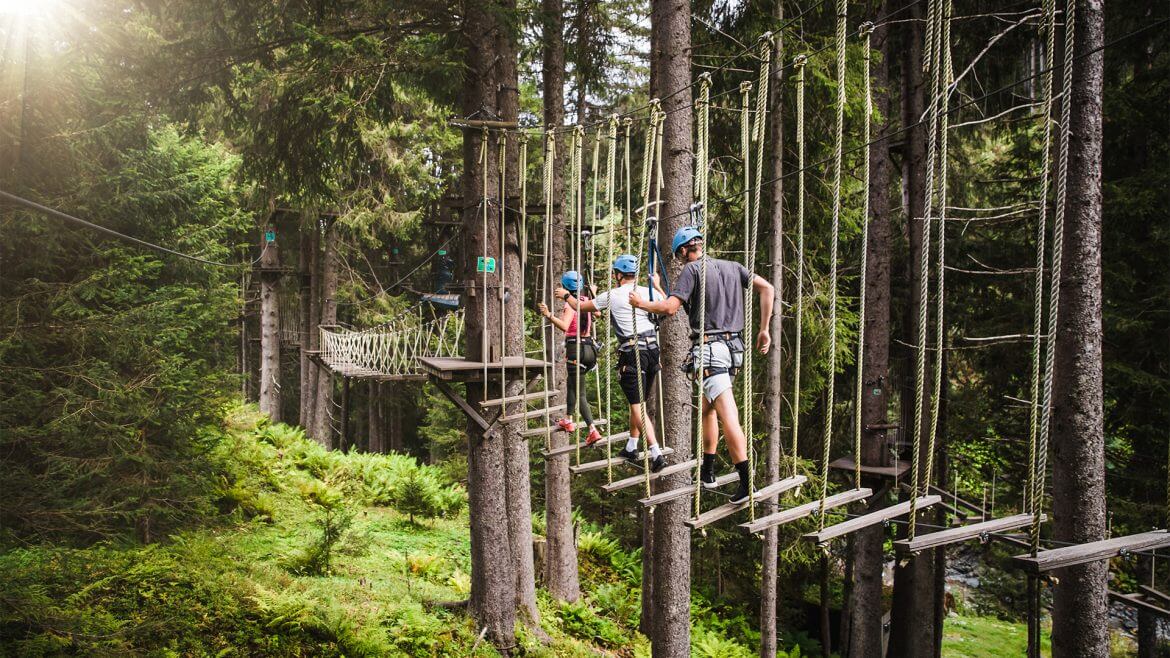 © saalbach.com, Mia Knoll – Who dares to venture into the airy heights of the high ropes park?
#4 Wild, wilder, Wildkogel – Whoosing down to the valley on mountain carts
From the mountain down to the valley you can hike, take the cable car or whoosh down on a mountain cart with lots of fun. Already at the first curve, these off-road carts swirl up a lot of dust. The Wildkogel-Arena Neukirchen & Bramberg is just made for mountain carting. With a view of the Hohe Tauern National Park and the Großvenediger, these XXL tricycles, whose handlebars are a bit reminiscent of a Harley Davidson, run about 450 metres down into the valley. If you want to marvel at the surrounding mountain scenery, it is best to stop at one of the places with a view of the Habach Valley and have a look, at least until your concentration returns. By the way, the carts can be driven in any weather, as long as the gondola is also running. In case of rain, there are special suits available for all mud lovers. Do you want to be wild on the Wildkogel? You can experience these adventures there.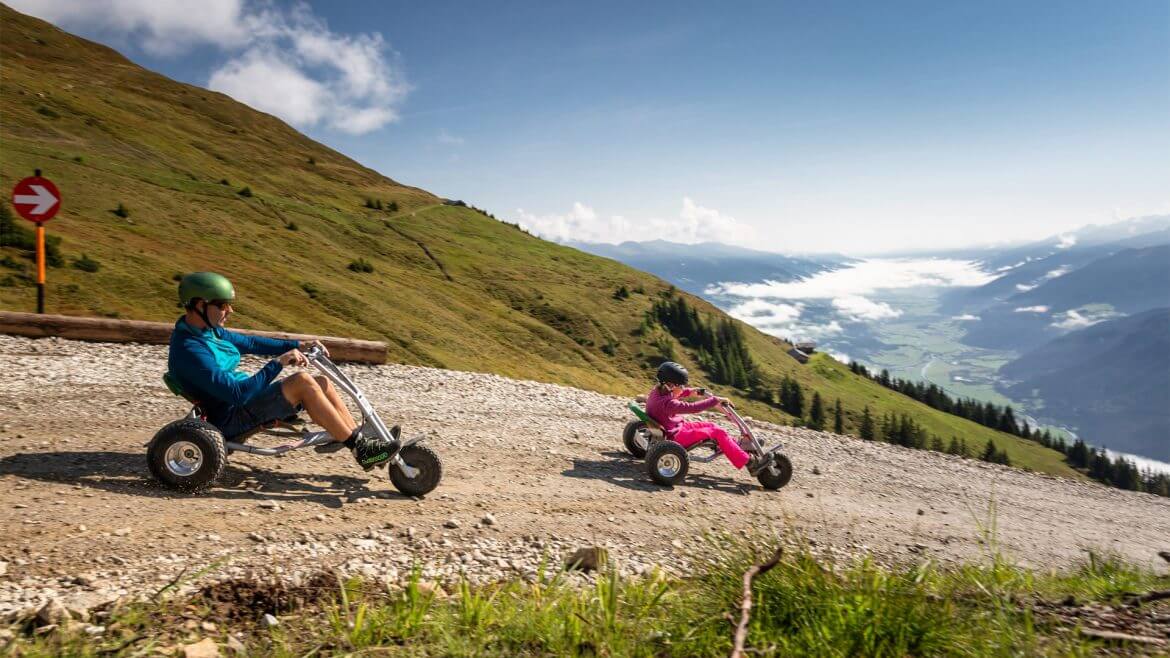 © Wildkogel Arena – Wild ride on the Wildkogel
#5 Thundering over hill and down dale – downhill biking in Saalfelden Leogang
Here, it's game over for weak nerves. Because here we change from three wheels to only two for some downhill biking. Just like with the mountain cart, the brakes probably play the most important role here. Because once the agile bikes are in motion, neither stick nor stone stops them. Whether you just want to try out a little downhill air or are looking for a real challenge, the Epic Bikepark Leogang has everything required in terms of bike action with takeoffs, step-downs, tables, steep curves and stone passages. Anyone who has ever boarded through the tight curves and over steps and roots knows how excitement really feels. Europe's No. 1 in terms of bike and downhill celebrates its 20th anniversary in 2021. And what would a birthday be without gifts? These are available for all bikers who can look forward to many new attractions in the 10,000 m² Riders Playground. Well then, let's go! Biking and Saalfelden Leogang belong together like,… well, you know.
#6 Water fun on two boards – water skiing on Lake Zell
We exchange the bike and two wheels for water skis and two boards and drive to lake Zell. It is not only beautiful to look at, but also invites you to have leisure fun on and in the water. If you don't immediately get your kicks while swimming or on a boat trip, the lake has several offers such as wakeboarding or water skiing here. At Edi's Water Ski School at the Thumersbach lido or in the Water Ski Centre at the Zell am See lido, you can strap on the boards and prove your skills on the water. And even if the "deep water start" in the squat position does not work right away, we can say that practice makes you quite wet, but in any case also perfect! And always there as a silent viewer at Lake Zell, is the Kitzsteinhorn with its snow-capped summit. Are you curious? We'll show you where water skiing is particularly good in SalzburgerLand.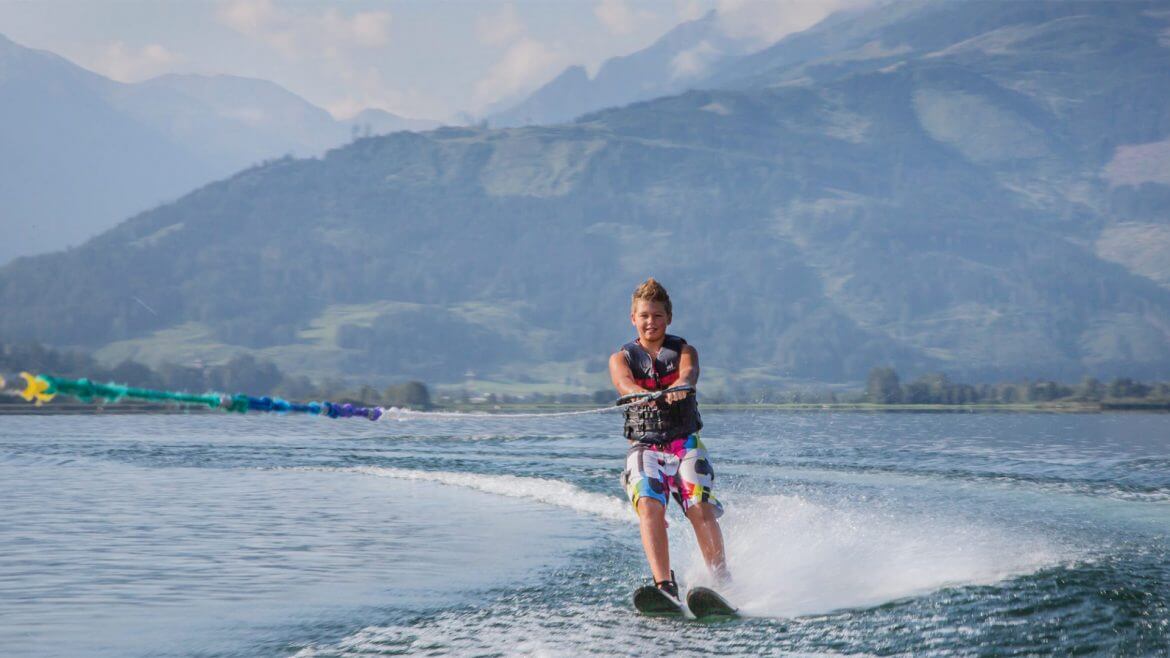 © SalzburgerLand Tourism, Eva-Maria Repolusk – On a wonderful summer day, there is nothing better than making waves while water skiing.
#7 Not for the faint of heart – Canyoning in the Fuschlsee region
When canyoning you not only get wet, but sometimes it also gets slippery and really nerve-wracking. Canyoning is climbing and hiking over wet rocks, passing currents and abseiling into deep canyons. It's no wonder then, that a climbing harness, helmet, sturdy footwear and a wetsuit are your best friends here. A particularly popular canyoners spot is the Strubklamm Gorge in Faistenau. Perhaps because it is one of the longest gorges in Austria and scores with 200 metre high rock walls and 17 jumps down to a maximum of ten metres. And we do not need to mention that you have to be reasonably physically fit when canyoning, right? If you tick off the physical fitness part, then off with you into the water!
#8 At full throttle against the water masses – eyes closed and get rafting
You will also get wet with certainty when rafting. Powerful rapids and wild waters await you here, which require a lot of skill. In the Salzburg Saalach Valley, the white waters are not for the faint of heart. Anyone who has ever taken a seat in a rafting boat here knows what we are talking about. Whether you are travelling alone or in a team, everything must be done to stay afloat and not capsize. How exactly this works in practice, everyone has to find out for themselves and work out their own tactics. But don't worry! Although the whole thing sounds like a lot of work and effort, it's also a lot of fun. But get an idea of it for yourself!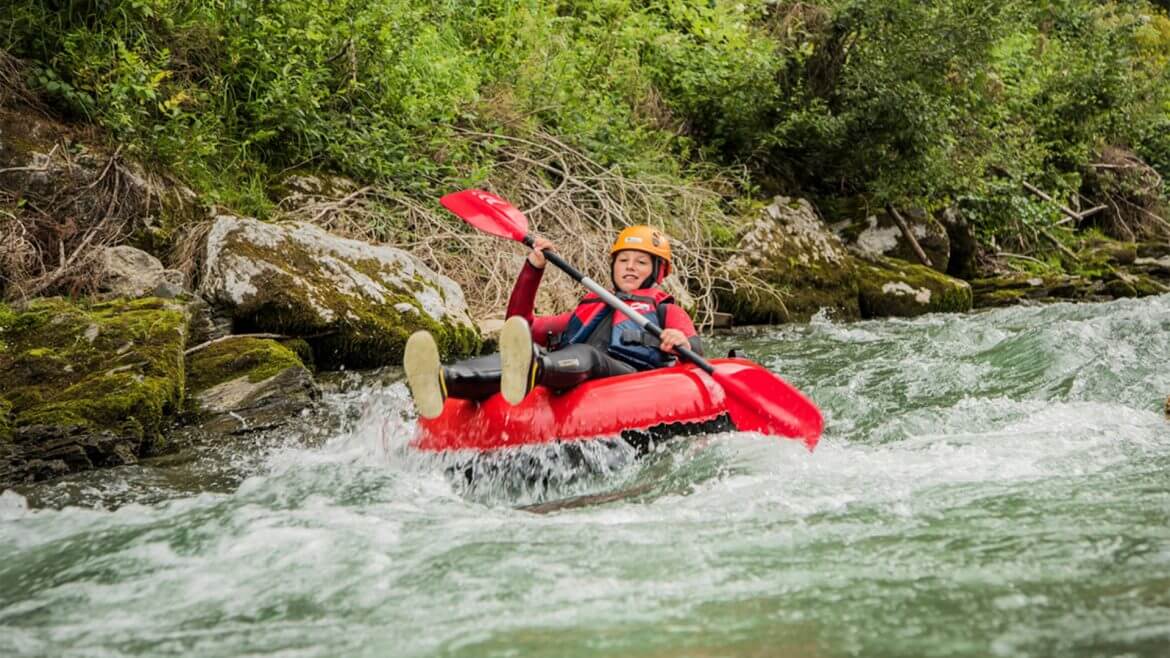 © SalzburgerLand Tourismus, Eva-Maria Repolusk / eva trifft. – Rafting tour in SalzburgerLand
#9 Salzburg from below – take a tour through the Stiftsarm Caves
Now, we head underground for the first time where once a year, usually in September, the Almkanal in the City of Salzburg is drained for cleaning. The "Alm clean" exposes the entrance to an ancient, underground water pipe tunnel. With rubber boots and flashlights, but please without any fear of narrow spaces or spiders, we head down a short ladder into the Stiftsarm caves. The path that the water usually takes leads almost 400 metres right through the mountain. However, with an average width of only 1.2 metres, it is quite narrow and at a height of 1.50 to 2.20 metres, it is not particularly high. Those who again see the light of day after half an hour arrive in the middle of Salzburg's old town. What a crowning achievement! Here, you can venture in the tracks of the water through the Almkanal.
#10 In search of eternal darkness – entering the "Damp Cellar"
If you think we cannot go deeper towards the earth's core, you should consider a cave tour. For example, in the natural show cave "Feuchter Keller" (Damp Cellar) near St. Koloman im Tennengau. If you spend ages searching for the entrance, you are in good company. It is located in the middle of an alpine pasture on the Hintertrattberg mountain and well hidden in the bushes. And you should not be afraid of spiders and bats. You will find them mostly in the entrance area, while the interior of the cave is virtually animal-free. Phew! But now, we first head into the darkness and down a good 32 metres into the depths. Flashlights illuminate your path, which is sometimes so narrow that you have to decide whether to crawl into the gap first with your head or with your arms. But you do get used to it during the course of the tour. By the way, a guided tour into the "Damp Cellar" is only possible if accompanied by the cave rescue team. And this is what it looks like in practice.
And do you now also have the adventure fever? Then let's go! In SalzburgerLand, there is hardly anything that doesn't give you the chance of an adrenaline kick.