The ingredients for these recipes naturally come from regional agriculture and the local gardens and forests. Freshly harvested apples and pears, Lungauer Eachtlinge, pumpkin and cabbage are now in season and are cooked in a farmer's style. The Tauern lamb, Pinzgau beef or freshly caught trout from SalzburgerLand's streams and lakes also form the high-quality basis for the finest food creations. The local hunters supply fresh game from chamois, stag or deer for roast, goulash, soup or ragout. The recipes are usually easy to prepare as there has always been a lot to do on the farm and the work around the stable, field and garden left little time for cooking.
SALZBURG SPECIALITIES
If you work a lot, you also need a lot of strength, which is why the original recipes from rural cuisine are sometimes a bit heartier. And the taste of farmer's doughnuts with sauerkraut, Kasnockn, Kaiserschmarrn or Moosbeenockn is simply unbeatable. After dinner you can enjoy a small glass of freshly distilled farmhouse Schnapps. Each region has its own specialities, which are passed down from generation to generation within the farming families. There are classics that are simply indispensable on the farm, but also some dishes that have almost been totally forgotten.
FARMER'S STYLE COOKING
On numerous cooking courses, you can look into the recipe books of the farmers' wives during your harvest festival holiday and swing the wooden spoon yourself under their expert guidance. Fresh farmhouse bread is baked together, the secret preparation of the Pinzgauer Bladln is revealed or blueberries are freshly harvested on the alpine pasture and transformed into Moosbeenockn. The best and most popular harvest festival recipes to cook at home can be found below. So, you can now bring a piece of Harvest Festival into your home kitchens.
TOP 3 HARVEST FESTIVAL DELICACIES FROM THE FARMER'S KITCHEN
1. FARMER'S DOUGHNUTS
A particularly popular dish throughout SalzburgerLand are the doughnuts, which are prepared in different versions. Depending on the region, these farmer's doughnuts, baked golden brown in deep fat, can be heartily filled with sauerkraut, bacon or potato roast, but can also be sprinkled with icing sugar and garnished with cranberry jam.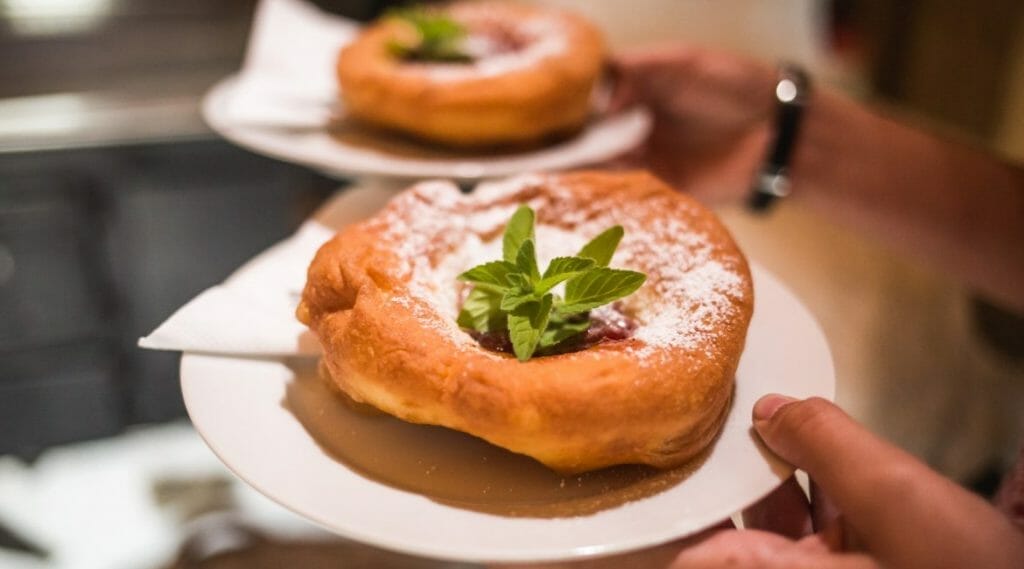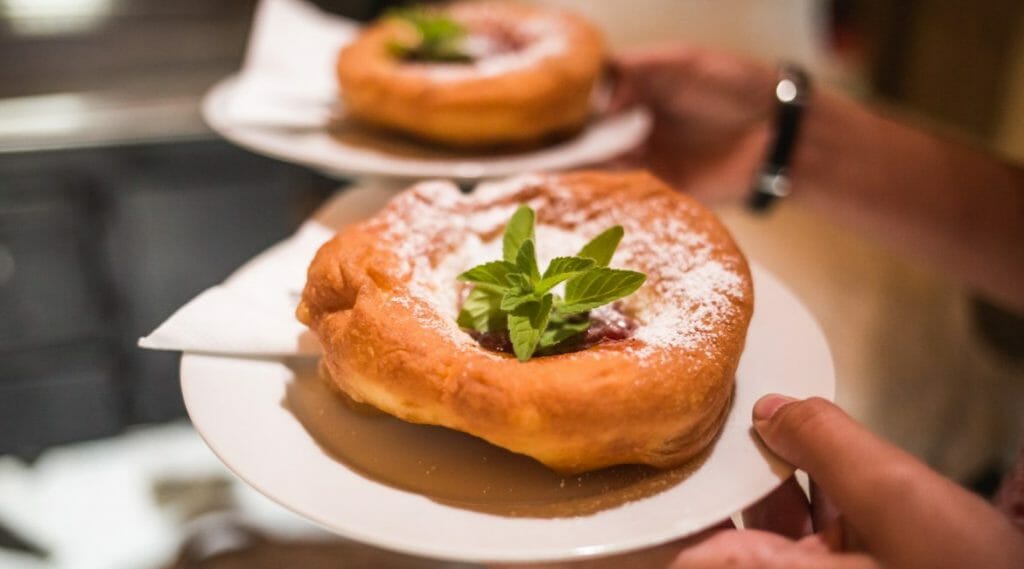 © SalzburgerLand Tourismus, Michael Größinger, Sweet sprinkled farmer's doughnuts
2. APPLE WHEELS
This classic of regional desserts is fruity. For the apple wheel, a sour apple is peeled, pitted and cut into half centimeter thick slices. Dipped in a sweet batter and fried in hot fat in the pan, the freshly harvested apple gets its full aroma. The apple wheels taste best when sprinkled with icing sugar while still hot and served with cranberry jam.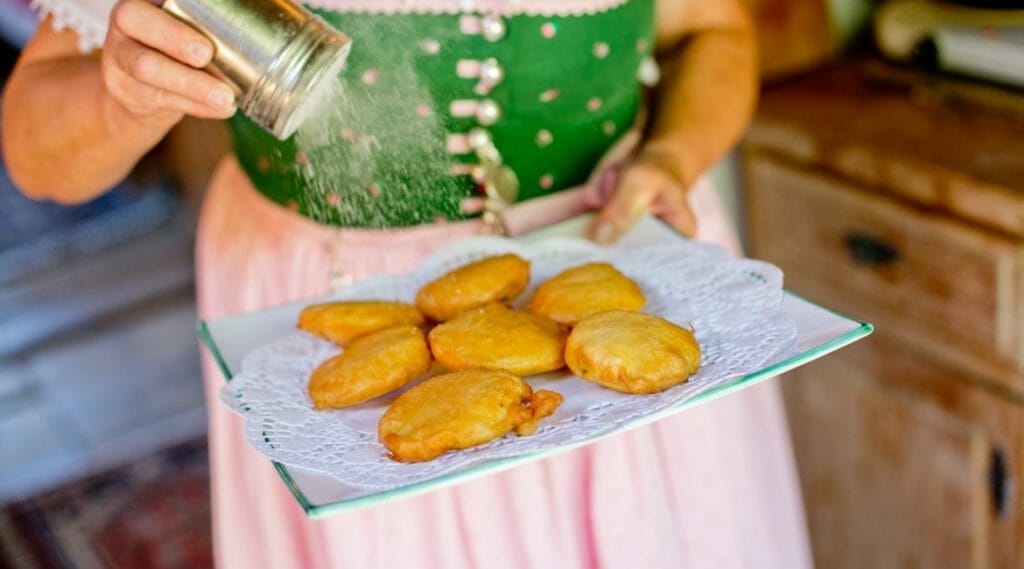 © SalzburgerLand Tourismus, Pinzgauer Apple Wheels
3. KASPRESSKNÖDEL
A hearty Pinzgauer beer cheese is the basis for the delicious Kaspressknödel. The dough is prepared with dumpling bread, milk, egg, parsley and a little flour. The flattened dumplings are then fried in a pan. For some, this speciality tastes best fresh and crispy straight from the pan, while others prefer the Kasspressknödel as a spicy soup and still others enjoy this classic with a nice green salad.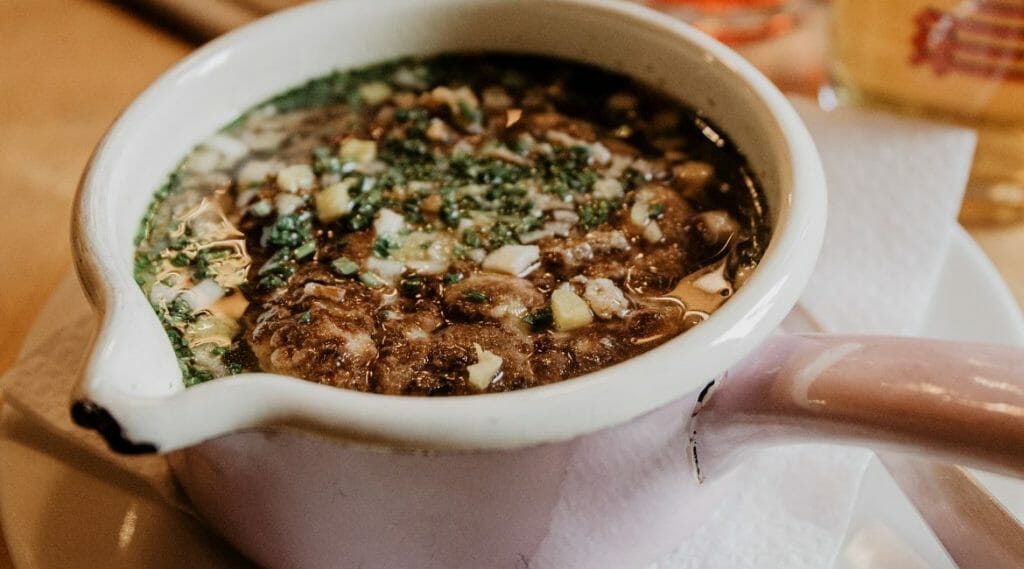 Hearty Kaspressknödel. © Boom Creative Lab
At the Harvest Festival hosts you will find many of these specialties during the Harvest Festival season.