In very different areas, people in SalzburgerLand, from farmers and hosts to tourism associations and politics, ensure that what makes this region what it is, is valued and preserved for future generations.
If you want to travel with a clear conscience, you can spend an extraordinarily happy holiday in SalzburgerLand. Environmentally friendly, climate-friendly and knowing that you are making a small contribution to a better world. Because it's worth living for!
#1 Nature-oriented holiday in the "Organic Paradise SalzburgerLand"
The word "bios" comes from ancient Greek and means "life". This is important if you want to understand why there is so much emphasis on organic (bio) farming in SalzburgerLand. This sustainable and quality-based type of agricultural economy affects all of our lives. It covers animal welfare, careful use of the precious resources of land, water and air, and the utmost respect for nature and life. SalzburgerLand is the only region in the EU where more than half of the land is organically managed. A point of which we are very proud and which each and every one of us supports by being a real organic world champion when it comes to consumption.
Many of our hosts are also dedicated to the principle of "organic". With more than 30 hosts, the holiday platform "BioParadies SalzburgerLand" reflects the diversity of life – from designer hotels to quaint inns to organic farms and beekeeping. All establishments are BioAustria certified and offer Salzburg organic breakfast or organic gourmet cuisine, depending on the category. In addition, there are many other special features such as local herb gardens and show gardens, solid wooden rooms made of local Moonwood or Gault Millau awarded organic top cuisine.
Here, we have collected all BioParadies SalzburgerLand hosts as well as current holiday offers and organic holiday routes for you.
You can activate the display of this element via the button. By activating the integration, the browser exchanges data with the respective providers. The current page has no access or influence on the content, type, storage and processing of this data. By clicking on the button, you allow the cookie agreedtoyoutube, you can revoke this cookie under the privacy settings.
#2 Alpine cuisine boasts great taste and preserves grown structures
When the Chef buys directly from the local farmer, fish farmer, hunter or beekeeper, then guests can not only look forward to an unadulterated taste experience, but also regional economies are supported. Regionality is a strong argument when it comes to sustainability, as is seasonality – pears, for example, are fresh at harvest time, dried in winter and not available at all in early summer. Game meat is served in autumn for the hunting season, with the local asparagus being served in spring. Alpine cuisine is a wonderful recommendation for all those who want to know how people have always cooked in SalzburgerLand and how these traditional recipes are reinterpreted. It can be found on the alpine pastures and in the inns, as well as in the top gastronomy.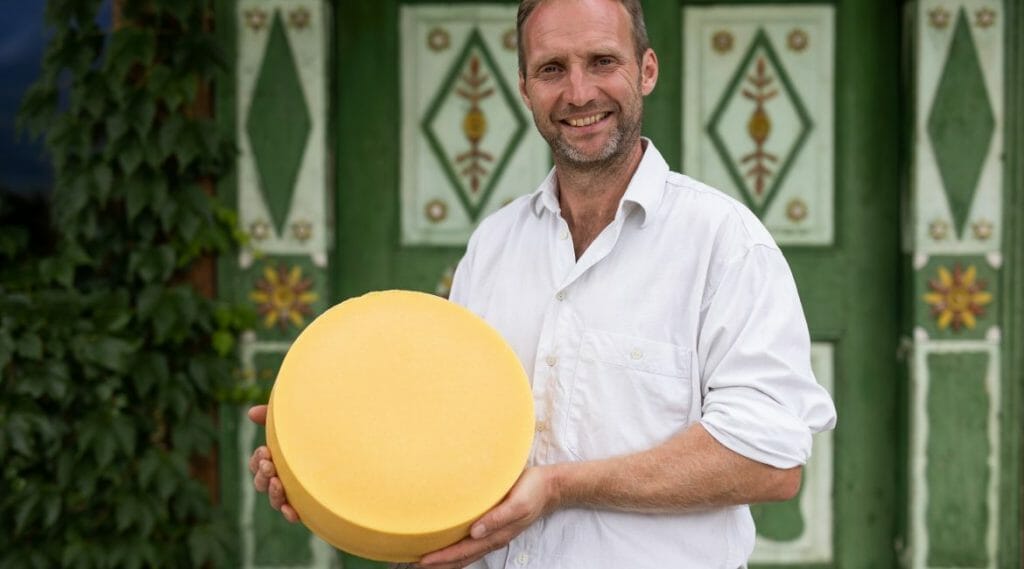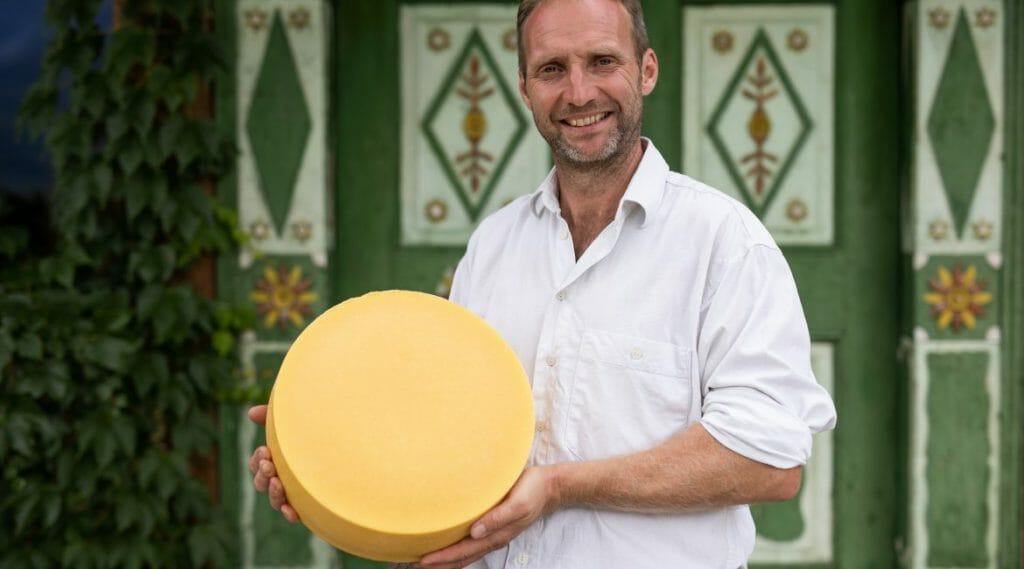 Cheese from Fürstenhof © SalzburgerLand Tourism, Michael Groessinger
#3 The "SalzburgerLand Certificate of Origin" offers confidence and transparency
The Salzburger people are true patriots when it comes to food and they prefer to use local quality. In order to ensure 100% transparency, manufacturers can have their food certified with the "SalzburgerLand Origin Certificate". More than 150 Salzburg gourmet craftsmen, producers, butchers and direct marketers have already initiated this and thus guarantee a complete traceability. Many of these products can also be found in local supermarkets, so definitely keep an eye out for them! Local produce creates value in our own country and strengthens local agriculture. An intact local agriculture, on the other hand, is the most important contribution to the preservation of our beautiful natural landscape. Green meadows and well-kept alpine pastures can only exist if the work of the farmers and their products is also valued.
In addition to foods such as milk, cheese, eggs, meat, honey, fruit and vegetables, some dishes can also be awarded the "SalzburgerLand Certificate of Origin". All certified products as well as a list of hotels and innkeepers can be found under www.garantiert-regional.at, and if you are looking for an original gift idea, how about a SalzburgerLand gourmet box?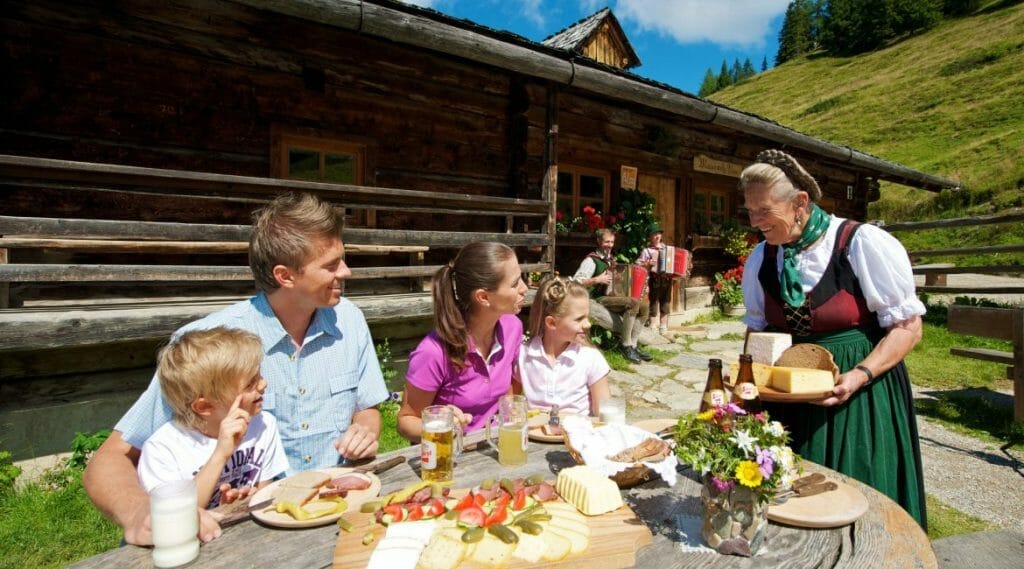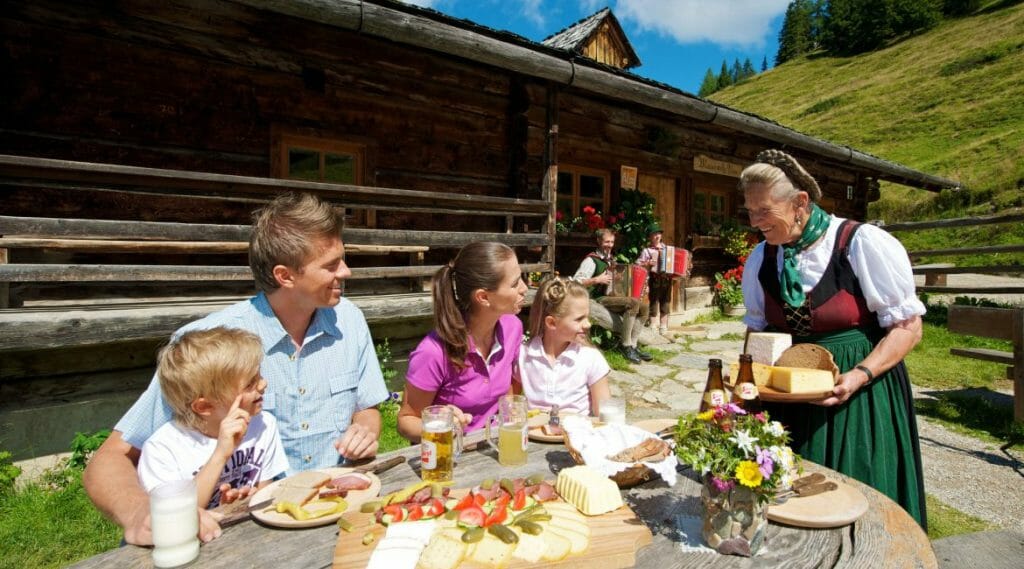 © SalzburgerLand Tourismus – Hut landlady serves a family fresh alpine produce
#4 Nature conservation at the highest level in the Hohe Tauern National Park
The Hohe Tauern National Park is the largest nature reserve in Central Europe and is celebrating its 40th anniversary this year. In this magnificent natural landscape with waterfalls, three-thousand-metre peaks, glaciers and alpine pastures, a large number of special and highly endangered animals and plants find a protected habitat across more than 1,800 square kilometres. The National Park extends over three federal states and is divided into one 1,200 square kilometre core zone and an outer zone of around 600 square kilometres. It can be explored on your own or in the company of an experienced National Park Ranger. Recently, the Sulzbach valleys in the national park community of Neukirchen am Großvenediger were declared an internationally recognised and protected wilderness area, putting itself on an equal footing with Yosemite and Beaver Creek.
#5 Arrive in an environmentally friendly way and protect the climate using public transport on-site
Salzburg is lovingly referred to as "The heart of the heart of Europe". This has many advantages when it comes to getting here, because SalzburgerLand is perfectly accessible by public transport. As early as the middle of the 19th century, summer holidaymakers travelled by train to the mountains. This has remained the case to this day. Salzburg train station, directly on the border with Germany, acts as a hub for ÖBB and DB to all holiday regions, such as the Gastein Valley or Zell am See. In almost all the towns, guests enjoy the benefits of "all inclusive" or guest cards. These include largely the free use of public transport and guarantee maximum mobility on-site. Many hosts also offer flexible shuttle services.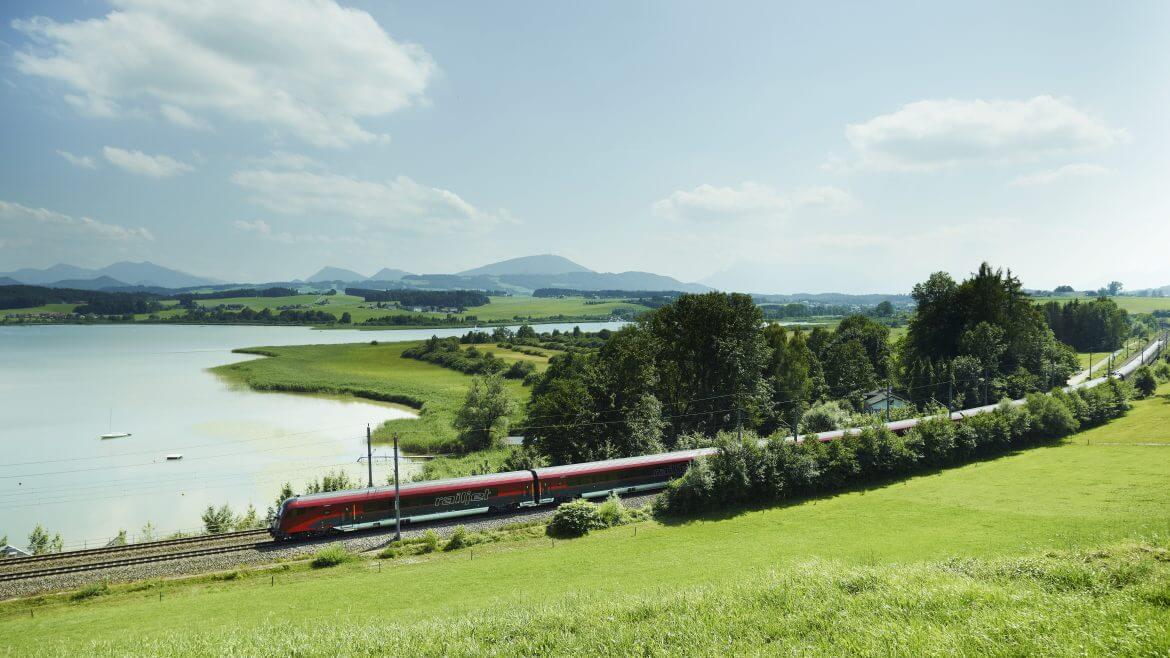 One of the most beautiful railway lines in Austria – front row seats on Lake Waller © ÖBB-Philipp Horak
#6 Those who holiday in Werfenweng send their car on holiday
Werfenweng has been a designated "Alpine Pearl" town for many years, where the highest value is placed on climate friendliness and sustainability. For guests arriving in Werfenweng without a car, there is the so-called "mobility guarantee", which consists of a free local shuttle, an electric vehicle fleet for hire and the "E-LOIS" taxi. Werfenweng lives the principle of gentle tourism, pampers its guests with all the amenities of modernity and yet, or perhaps precisely because of it, lets them experience tradition, unspoilt nature, fresh air and heavenly tranquillity.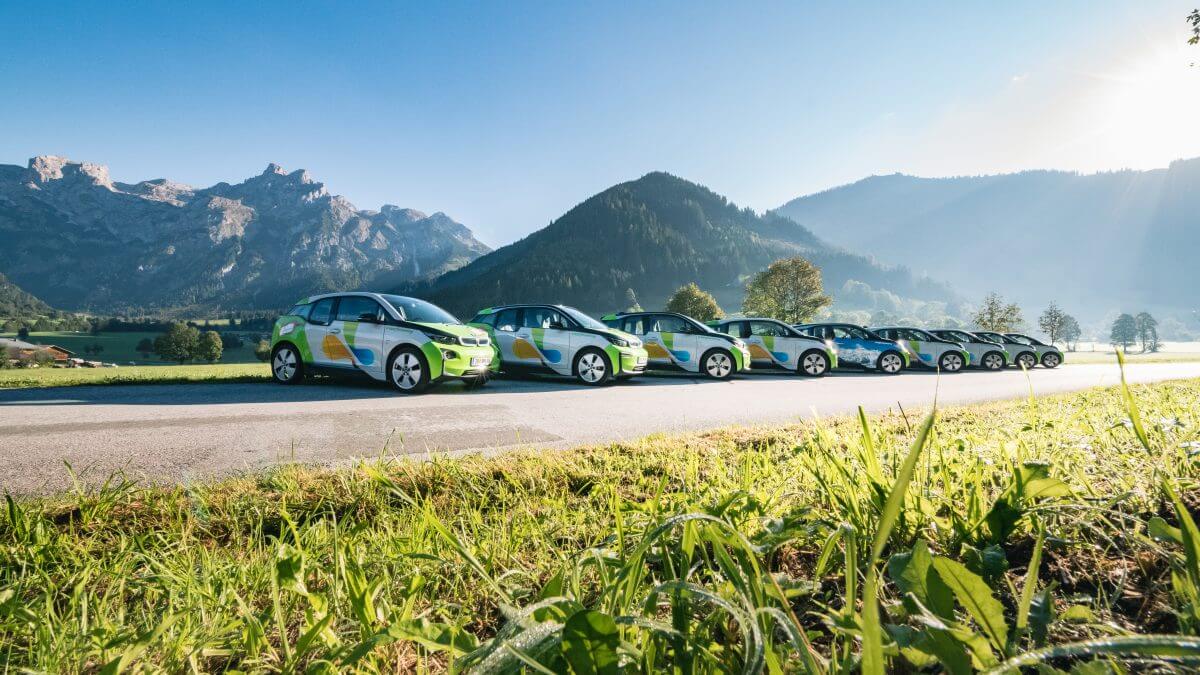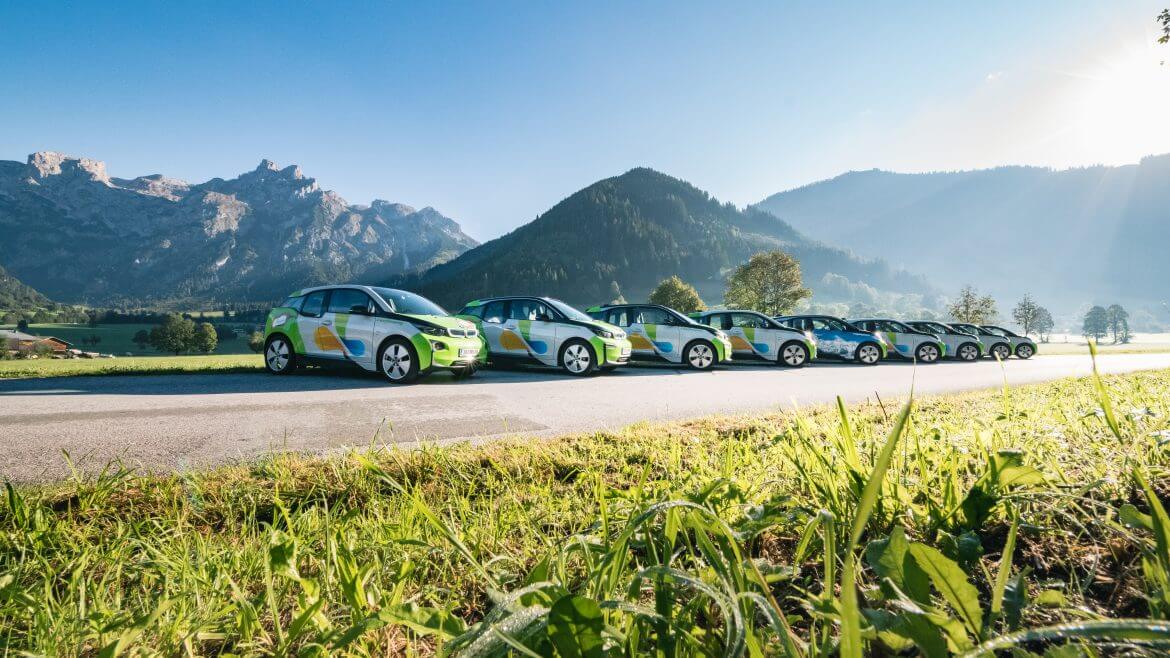 Werfenweng © TVB Werfenweng-Christian Schartner
#7 Use the healing powers of the Alps for your own health
If you want to be good to yourself and pamper your body, mind and soul, you don't have to travel to Sri Lanka for an Ayurveda course or to the sea for Thalasso Therapy. The best is so close, as well as being highly effective and beneficial. The healing powers of the Alps are powerful, tried and tested and medically proven. Nature is the ultimate fitness centre to get healthy and stay healthy. Whether it's medicinal herbs, the altitude, the aerosols of the waterfalls, the immune-strengthening Terpenes of the forest air or the Radon in the healing tunnels and in the thermal waters – they all make up the "Alpine Health Region SalzburgerLand". The diverse range of products offered by more than 50 partner companies covers different health areas from Rheumatism to allergies, from Asthma to stress and burn-out symptoms.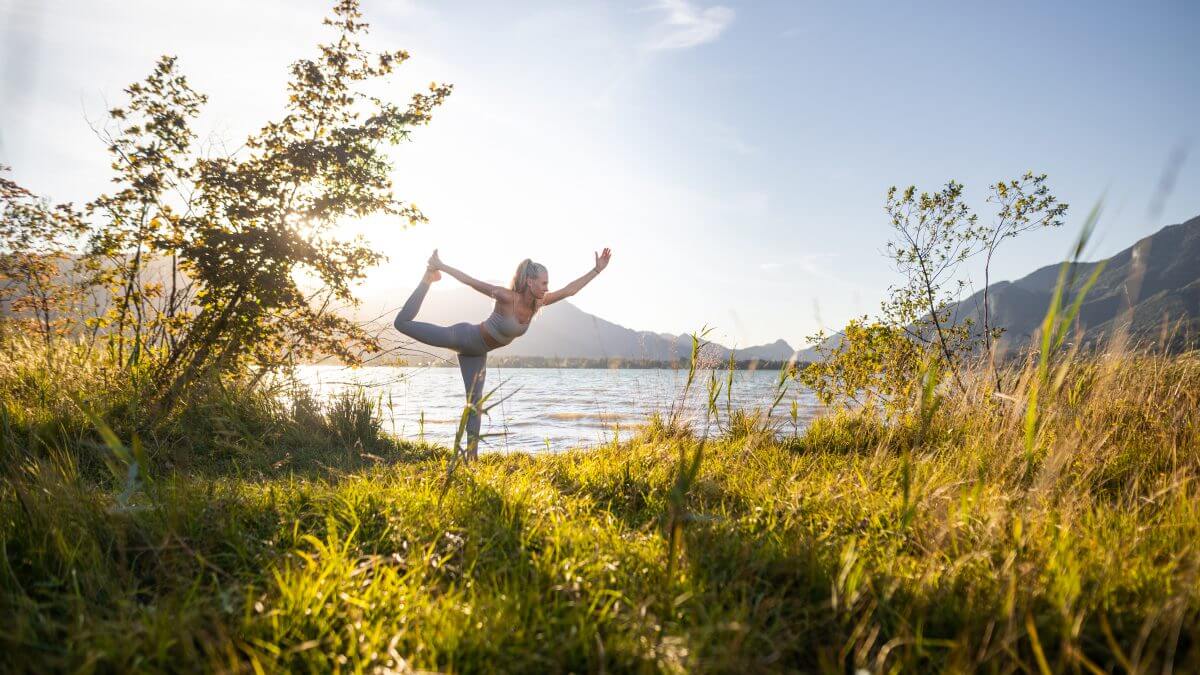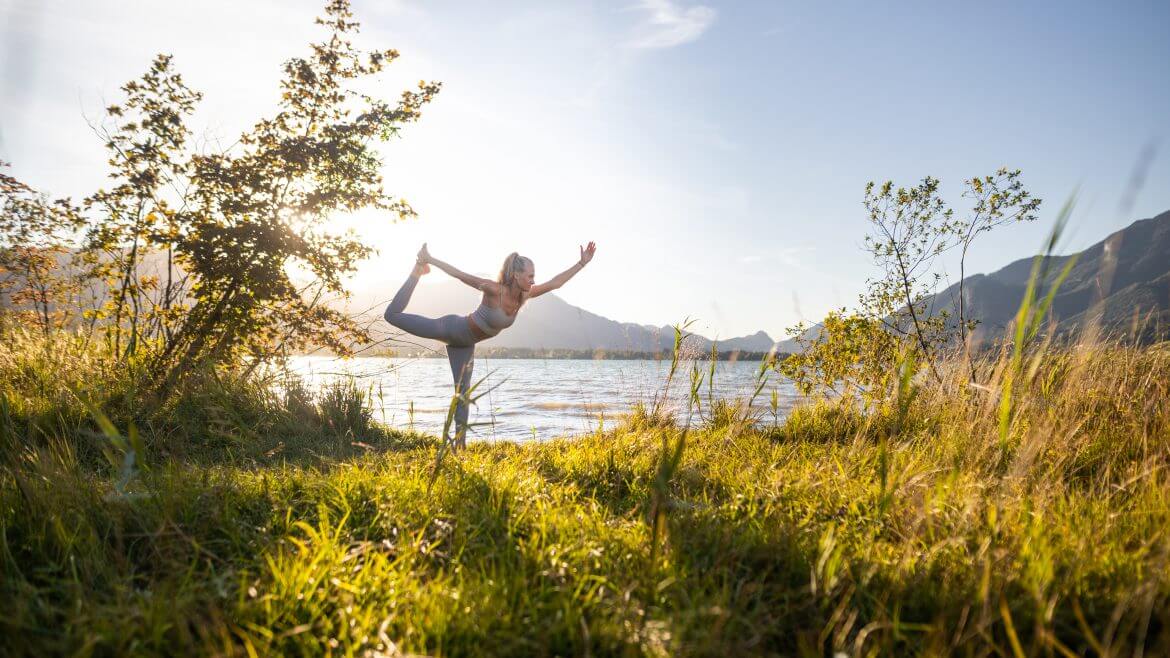 Yoga at Lake Wolfgang © SalzburgerLand Tourism, Michael Groessinger
#8 Still or Sparkling – Salzburg's water has the best drinking water quality
Water is a precious resource and the basis for a good life. In SalzburgerLand we are blessed with drinking water of excellent quality, which rises directly in the mountains. The glaciers are considered to be enormous reservoirs of drinking water. The water in SalzburgerLand is so clear and pure that it can be drunk from almost any spring, stream and lake. But just because something is supposedly in abundance does not mean that it can be wasted. On the contrary, we are aware of this resource and so notices in hotels such as "Towels on the holder: I use them again!" are a kindly meant invitation to use water sparingly and to actively participate in environmental protection.
Water exerts a magical attraction – for swimming, bathing or water sports. It is also the basis for a delicious beef soup, fine elderberry syrup or the best beer. Water is the basis for life and basis for relaxing, action-packed, healing, adventurous holidays in the holiday regions of SalzburgerLand. We take care of it!
#9 Use the power of the forest as a health care
The word "sustainability" originates from the forestry industry. It is clear that forests in SalzburgerLand are also of great importance for a "green" holiday. More than half of the federal state is covered by forest, and it is managed so sustainably that its area has increased significantly in recent centuries. Dr. Arnulf Hartl from the Institute of Ecomedicine at Paracelsus Medical University Salzburg investigated how much people benefit from the power of the forest on holiday as part of the first Central European forest therapy study. For example, after an active week-long holiday in an environment characterised by forests and mountains, inflammatory parameters are already falling significantly. The immune system is sustainably strengthened. There are a thousand times more micro-organisms in the forest air than in the city and the higher the biodiversity, the more anti-inflammatory the environment is. Those who actively move in the nature and forest habitats make the best use of their full potential.
#10 Hiking on the "Hohe Tauern Panorama Trail" with a small ecological footprint
Hiking with very little luggage – Just a backpack on your back and the fantastic nature of the Hohe Tauern National Park in view. This is promised by the new long-distance hiking trail "Hohe Tauern Panorama Trail", which leads over 150 kilometres and in ten stages from the Krimml Waterfalls to Zell am See. Discovering the largest nature reserve in the Alps on foot, on your own and with a small ecological footprint, is a natural hiking experience of a special kind. This is new from Summer 2021 in the Hohe Tauern National Park holiday region.
Bookable offer – "Green Spirit: Climate-friendly hiking with train arrival"
7 nights in quality-certified partner establishments (accommodation of your choice: Basic/Classic, meals: breakfast and dinner)
6 contiguous, selected stages on the Hohe Tauern Panorama Trail
Luggage service
Shuttle transfer as part of the practical mobility service
Arrival and return transfer to the nearest train station
Trail Hotline (Angel's Service)
Extended travel documents (Angel's Service)
Price: from € 778 Euros per person in a double room, bookable daily from 21st June to 26th September, 2021