With views of the idyllic Lake Waller and the hilly landscape of the Salzburg Lake District, Executive Chef Emanuel Weyringer invites you to sit to the table. His creations combine Haute Cuisine with regionality, creativity and earthiness. A visit to his restaurant is like a fireworks display for the senses. With these smells, these tastes, and fine dishes served as small works of art, this award-winning Salzburg chef creates true masterpieces.
The gourmet duo of Maria and Josef Steffner, from Mauterndorf in Salzburg's Lungau region, are famous for their down-to-earth award-winning cuisine. In their Mesnerhaus restaurant, they conjure up unforgettable flavours on the plate and amaze even discerning connoisseurs with their compositions of Lungau venison, carrots and Tauern rye.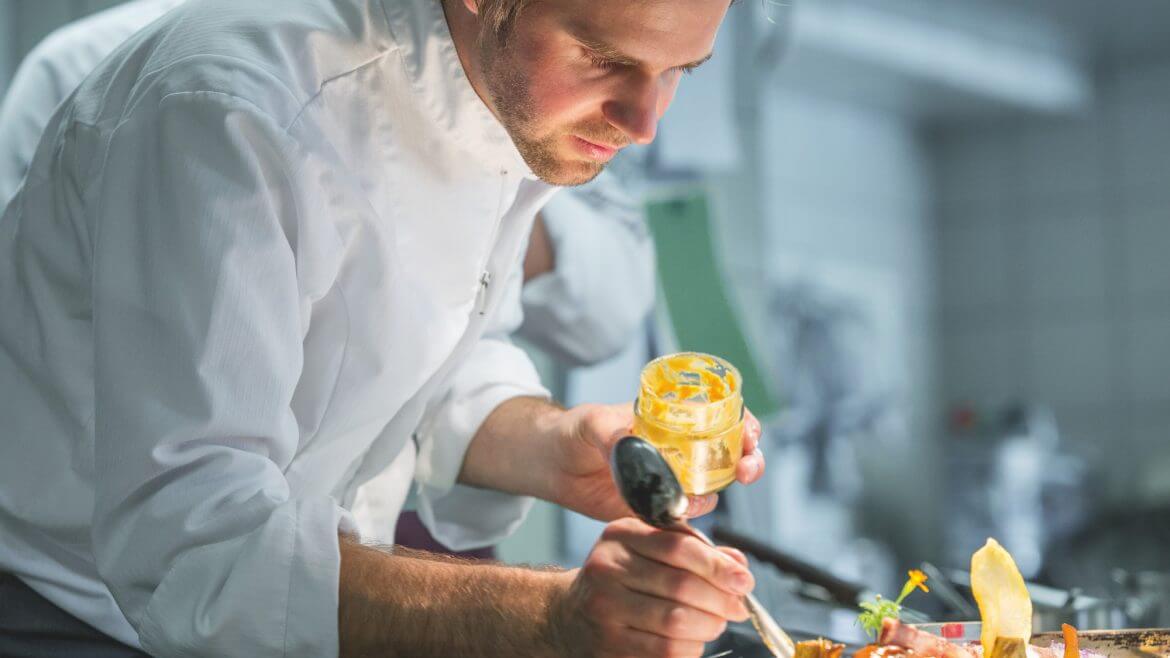 © SalzburgerLand Tourism, Passionate Chef
The treasures of Salzburg are the best ingredients for culinary delights and when it's an organic delicacy, it tastes even better. The proof that organic is today far more than just a trend, is reflected in the growing demand for sustainably grown produce and from 2017 onwards, there is even a dedicated Taste Trail for organic gourmets. The hosts have also recognised this need for natural delights and selected culinary addresses pamper their guests with organic at its finest. Here, countless organic culinary locations are waiting to be "tasted". For the nutrition conscious the amount of alternatives to animal products on offer is also growing. The Green Garden in the Nonntal quarter entices with its vegan and vegetarian delights to completely new taste experiences. On the right side of the Salzach River, the Urbankeller and the BioBurgerMeister have committed themselves to organic cuisine and right in the trendy Andrä quarter, GustaV ensures variety with their Veggie dishes. These trends run right through all regions of SalzburgerLand and this can be seen in the Organic Burger Factory in Zell am See which is known for its excellent cuisine. Delicious organic cuisine at the highest level is served in the Schützenwirt in picturesque St. Jakob am Thurn.
For those who can't get enough of the successful mix of nature-based tradition, urban lifestyle and Salzburg specialities, sample and enjoy the unique atmosphere with hosts such as Mama Thresl in Legogang. In the Grill & Chill, delicacies from SalzburgerLand are prepared in the open kitchen. In the Villa Solitude, in picturesque Bad Gastein, one can celebrate local cooking with a large portion of style, and also the Miramonte Design Hotel with the Haus Hirt is a guarantee for an unconventional holiday full of organic pleasure.
Culinary rock stars in their element
Every chef has their creation and every connoisseur their favourite location. In keeping with this motto, there is an extraordinary variety of cuisine in SalzburgerLand along with an unrivalled density of award-winning chefs and restaurants. In addition to highly decorated chefs, culinary mavericks are always on the lookout for new and unusual taste sensations. They bring modern gastronomic influences into SalzburgerLand and leave their guests in raptures. These rock stars of the local gastronomy scene cook just as they want to.
A good example is Martin Kilga in the Paradoxon Restaurant. Together with his wife Anita, they deliver unusual creations as well as down-to-earth dishes in this top culinary address in the Salzburg Nonntal quarter. The atmosphere changes from casual to weird, from graffiti decorated walls to painted wooden planks. These two free-spirits remain true to their motto: "Break with expectations and create something new".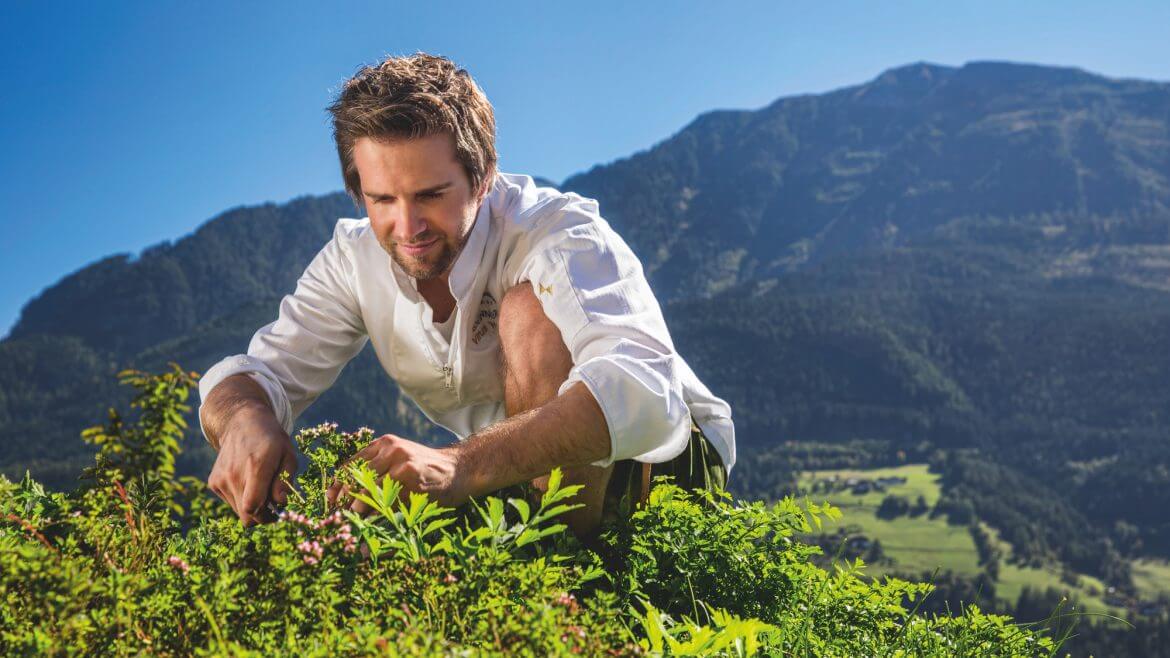 © SalzburgerLand Tourism, Vitus Winkler in his herb garden.
Virtuoso chef Vitus Winkler invites his guests into the Sonnhof, in the midst of the Pongauer Mountain range, with the Vitus Cooking culinary concept. With precious regional ingredients and a large dose of creative ease, the "wild boy" ensures variety and plenty of "aha" moments in the Alpine cuisine. He grows more than 60 different herbs in his garden and uses these to complete his creations.
The workplace of Chef Martin Klein is also exceptional. With his team he is responsible for the pleasurable masterpieces served in the Ikarus restaurant in the Red Bull Hangar 7. Perfection and passion meet in this culinary artist together with innovation and creativity. When these unique dishes are served in the award-winning ambience of the Hangar 7, unforgettable experiences for all the senses are guaranteed.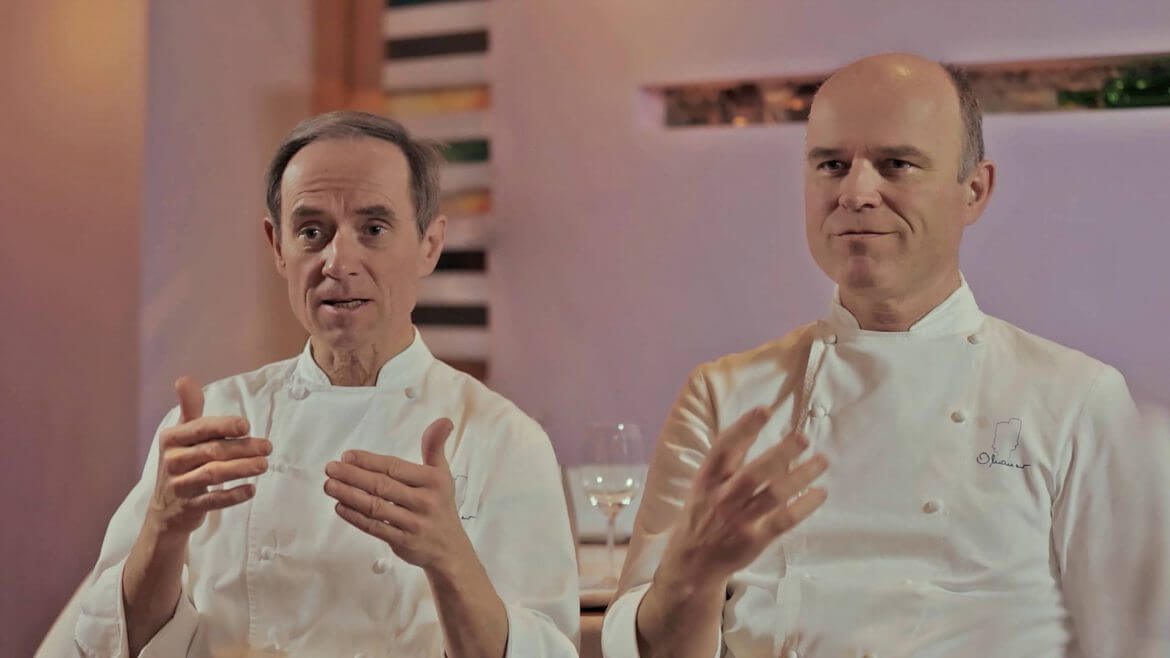 © SalzburgerLand Tourism, Karl & Rudi Obauer in discussion