Holiday paradise Abtenau
Nestled between the Tennen Mountains and the Osterhorn group is the market town of Abtenau, a popular resort town in all 4 seasons in the Tennengau.
More than 200km of signposted trails in and around the town, lead to fabulous places and magnificent vantage points. Whether on a hike to the Eglsee Nature Reserve, mountain hiking to old, rustic huts or simply with a guided hike, all one's needs are truly satisfied here. A magnificent Alpine snack with home-made produce should not be missed when on a mountain hike. Variety and excitement is guaranteed even for the young and young-at-heart guests, thanks to the diverse program of the Abtenauer outdoor specialists. Rafting, canyoning, mountain bike tours, cave tours, 'Bockerl' riding and much more turn holidays in Abtenau into an unforgettable experience.
Winter also offers a very diverse program. The clear air and the snow crunching under your feet make lovely walks, torchlight hikes or horse-drawn carriage rides through the winter forest simply wonderful. The Abtenau ski lifts offer excellent opportunities for skiing for the entire family. On perfectly groomed cross-country ski trails, it is a real pleasure to ski through the natural landscape and up onto the sunny heights.
The culinary treats in the various restaurants and hotels complete the versatile Abtenau offering.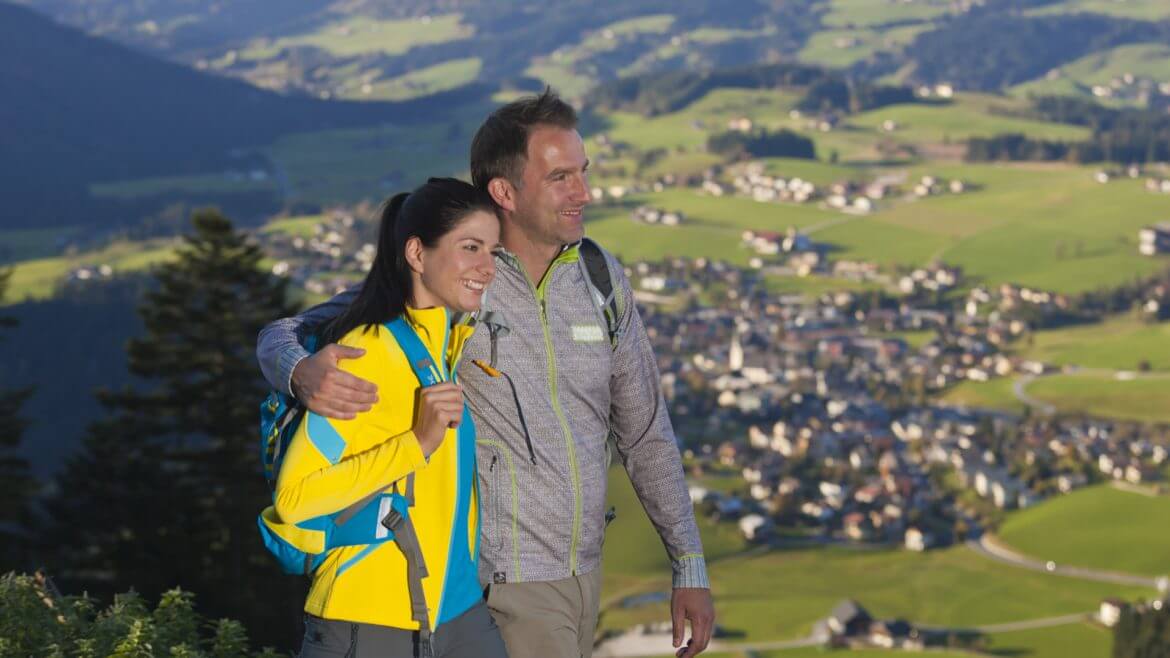 © Abtenau, Leo Himsl – Hiking Paradise Abtenau
Abtenau Healing Spring for strengthening the immune system
There is also another thing which distinguishes Abtenau – the Sodium-Calcium-Chloride-Sulfate mineral spring, whose healing effects have been known since the 19th Century. With this mineral spring, Abtenau is well qualified as a partner of the Tennengau Interreg project "Trail for Health North". This cross-border project, partnering the regions of Tennengau, Tegernsee and Bad Reichenhall, pursues the goal of sustainable cross-border health-tourism and regional development through economic and environmental valorisation of natural health resources and culturally traditional healing applications.
The mineral spring in Abtenau was discovered by a forester back in 1863, when he tasted the water and noticed the salty tart taste. It quickly became clear that this was very special water. In 1871, the "Zwiesel bath" was built, where the water was used mainly for inhalations, drinking cures and baths. Starting in 1930, these healing waters were even bottled, labelled and sold and could thus be used also outside Abtenau for drinking cure applications.
After World War II, this water was forgotten and only now do we begin to slowly remember this ancient knowledge. The project "Trail for Health North" puts this Abtenau healing water back into the limelight where it is also being clinically tested by Paracelsus Medical University (PMU) under the guidance of Univ. Doz. Dr. Arnulf Hartl. The aim is to use the natural therapeutic resources for health tourism, as well as to further develop health products, medical applications and services. The so-called "Fountain of Youth Mountain" study examines whether bath therapies and targeted movement therapy can strengthen the immune system and the balance of older people.
Results and current information of the "Fountain of Youth Mountain" study can be found at www.trail-for-health.com.