A beautiful day on the mountain with lush green meadows, deep blue sky, light bee buzzing and the monotonous ringing of cowbells. This all belongs to the idyllic Alpine summer holiday. On the hiking trail however, a herd of cows has settled down to enjoy their leisurely siesta in the summer heat. How should you behave when around these animal milk suppliers? "Around" is the key word, because it is best to take a wide berth around the herd with no great fuss or unnecessary nervousness. Under no circumstances should you irritate the animals or show fear – simply show "normal" behaviour and then the cows and horses also stay sociable!
Safe Alpine Pastures
The Federal Ministry of Sustainability and Tourism has created, together with the Chamber of Agriculture, the Federal Economic Chamber and the Alpine Association, the "Safe Together on Austria's Pastures" Action Plan which has ten codes of conduct for being around grazing livestock. On the "Federal Ministry for Agriculture, Regions and Tourism" website, you will find information and the code of correct behavior on Alpine pastures. By observing these 10 rules you behave properly and safely on Alpine pastures.
Respect your limits
"Caution grazing livestock!" is often seen on signs when entering a pasture. The sign is not there to scare you but to be a reminder that this is the habitat of generally peaceful cows. Hikers and bikers thus enter the animals living room, so to speak and showing understanding and respect help keep all parties safe. The initiative "Respect Your Boundaries" shows an informative video on the topic of "Hiking with the dog" on its website and also has general rules of conduct in dealing with grazing livestock. In the brochure "I'm stronger" are all clearly explained tips and rules of conduct.
Hiking with a dog
Those who go hiking with their dog should take notice of and watch out for cows and horses. Generally, the dog should be on a leash on the mountain and especially when crossing a pasture. This prevents the dog chasing or provoking the cows. Especially when mothers are in the herd with their calves, they will defend their young and go on the attack. If a cow shows suspicious and aggressive behaviour, let the dog off its leash for its own protection, send it out of danger and slowly move towards the fence.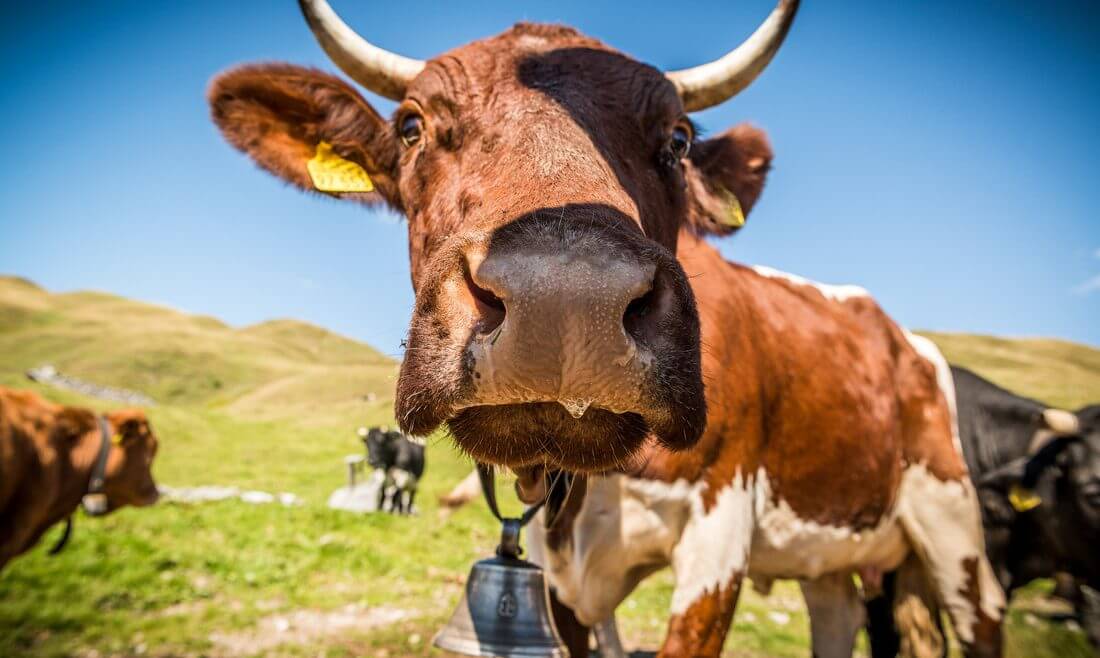 TIPS AND RULES OF BEHAVIOUR FOR BEING AROUND GRAZING LIVESTOCK
Avoid contact with grazing livestock, do not feed the animals, keep a safe distance!
Keep quiet, do not scare grazing cattle!
Mother cows protect their calves, avoid encounters between mother cows and dogs.
Always keep dogs under control and keep them on a short leash. If an attack is likely by a grazing animal, let your dog off the leash immediately!
Keep to the hiking trails on Alpine pastures!
If grazing cattle blocks the way, circumvent the herd with as much distance as possible!
When grazing livestock approach – stay calm, do not turn your back, avoid the animals!
At the first signs of unrest of the animals, leave grazing land quickly!
Pay attention to fences! If there is a gate, use it and then close it well again and cross the pasture swiftly!
Treat the people working here, nature and animals with respect!
For more information on how to behave with animals in the Alpine pastures, please see: Safe Alpine Pastures