The magic of the farmhouse garden
Outside in the farmhouse garden there is colourful enjoyment and magical diversity. This is the motto of the 25th Harvest Festival in SalzburgerLand. The title couldn't be more appropriate, because what grows and thrives in Salzburg's traditional farmhouse gardens is truly a magical treasure. It's a good thing that the farmers of SalzburgerLand still cultivate their knowledge today, and share it with their guests during hikes, workshops and discussions. For example, in the Salzburg Lake District, where on 5th September experts pass on their knowledge about the power of nature over a fence-side chat, while biking from garden to garden. Or in Rauris, where guests can take a leisurely hike into the various farmhouse gardens, which are lovingly cherished and cared for by the valley's farmers. Here you will find all the events and the programme around the topic of farmhouse gardens during the Salzburg Harvest Festival.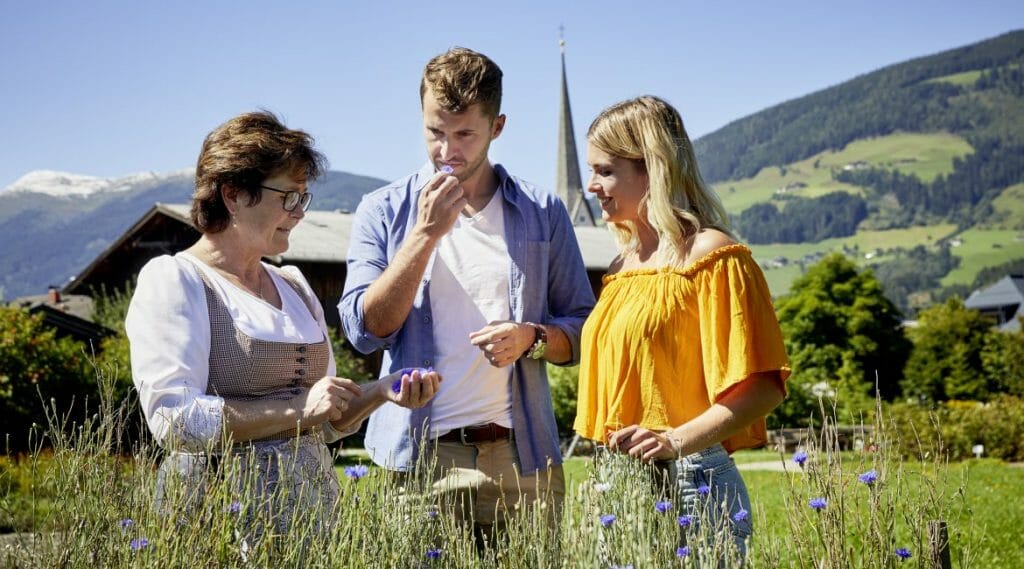 © SalzburgerLand Tourismus, Andreas Hechenberger
Meet a real giant
Did you know that there is a real giant living in Salzburg's Lungau region? This monster goes by the name of Samson and has been living in Salzburg's southernmost region for a good three hundred years. But don't worry, this biblical companion with the long hair and magnificent armour is scary to look at, but does no harm to anyone. Accompanied by dwarf figures, musicians and villagers, he moves through the village during ceremonial parades and always rests on the shoulders of a young man. A remarkable achievement, as after all, the eight-metre-high figure weighs a whopping 80 kilograms. If you want to meet Samson, you can during the Harvest Festival on 19th September when the Lungauer Samson figures dance through the town centre of St. Andrä. In addition, a new special exhibition in the Lungau Museum of Local History in Tamsweg now displays the history and background of this Lungau custom. By the way, this giant is not threatened with extinction as the carrying of Samson has been under the protection of the UNESCO World Heritage Site since 2010.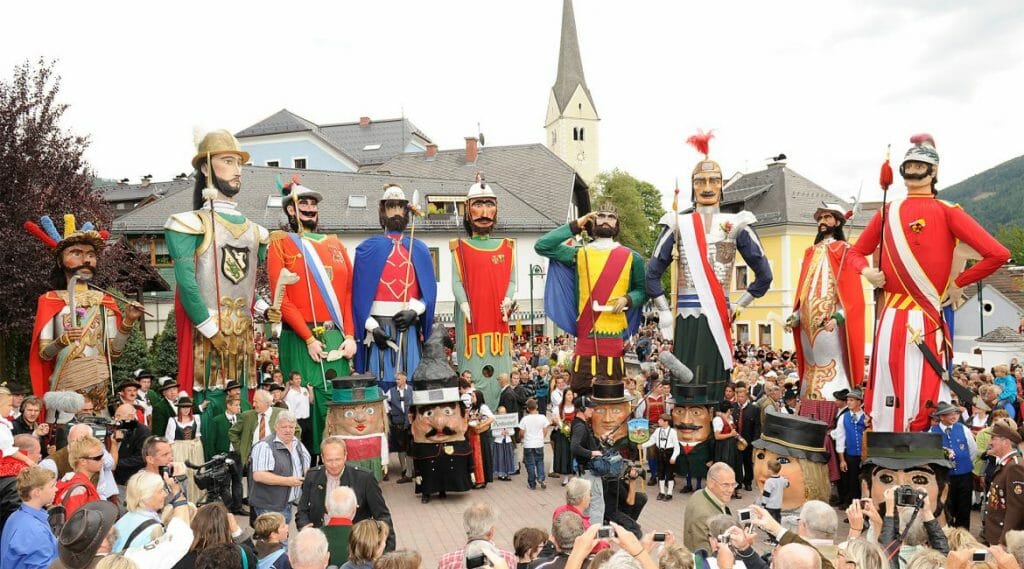 © Salzburg's Lungau holiday region – Festive Samson parades in Salzburg's Lungau
Enjoying a farmer's doughnut
Sweet or sour – with jam or sauerkraut? When it comes to the preferred garnish of a farmer's doughnut, the people of Salzburg can be quite strict. Sometimes a table splits into two camps and begins discussing this topic passionately. This is no surprise as this pastry made of yeast dough not only tastes heavenly but it also awakens the most beautiful childhood memories. Our advice is to simply try all the variants yourself, and during the Harvest Festival there are plenty of opportunities to do so. For example, on "Doughnut Wednesday" at the Stiegl Brauwelt, where, in addition to classic variants, people also experiment with fillings made from Hokkaido pumpkin or pulled pork. Or while baking farmhouse doughnuts together on the Obere Astenalm in Bad Gastein. There, the landlord himself explains how these small dough works of art are made. Alternatively, on the Steiner Hochalm in Dorfgastein, you can learn how to prepare a traditional leaf doughnut and what distinguishes it from a farmer's doughnut. If you prefer to concentrate entirely on eating instead of producing, the 'Doughnut Days" in Annaberg is the right place for you.
You can activate the display of this element via the button. By activating the integration, the browser exchanges data with the respective providers. The current page has no access or influence on the content, type, storage and processing of this data. By clicking on the button, you allow the cookie agreedtoyoutube, you can revoke this cookie under the privacy settings.
Visiting a cattle drive
When the days get shorter and the nights fresher in autumn, the time comes for the cattle to come back down from the pastures to their stables. Traditionally, this cattle driving is celebrated in Salzburg's regions with colourful festivals where the animals are festively decorated and "wreathed". These festivals are something very special not only for locals, but also for guests who enjoy the colourfully decorated animals, which come back healthy and satisfied from the Alpine pastures. If you want to experience a real cattle drive, you have plenty of opportunity to do so during the Harvest Festival, for example at the Harvest Festival in St. Martin bei Lofer on 11th September or in Filzmoos on 19th and 20th September.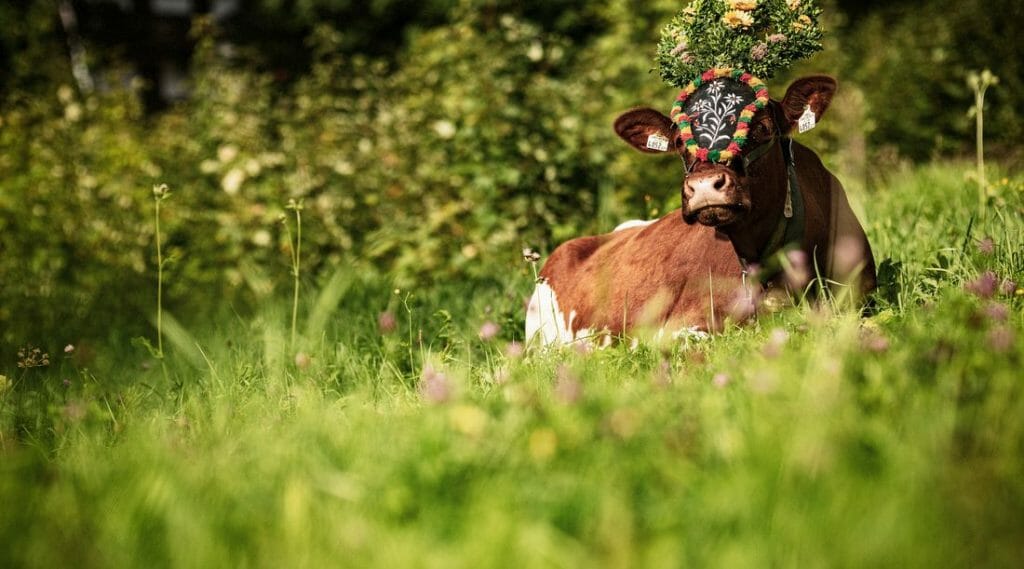 © SalzburgerLand Tourismus, Markus Berger
Learn to yodel
For a long time, yodelling was ridiculed by classical high culture or shown as very cheesy in local films. This was wrong, because yodelling with its acrobatic alternation of chest and head tones is a true art and a centuries-old form of communication. The nice thing about it is that in SalzburgerLand, everyone can learn to yodel themselves and become aware of their own voice and its expressiveness. During the Harvest Festival there are several opportunities to do so. For example, in Anita Biebl's yodelling school on the Untersberg, every Thursday until 16th September or in the Yodelling School Pinzgau, where there is even a separate yodelling diploma for all participants at the end.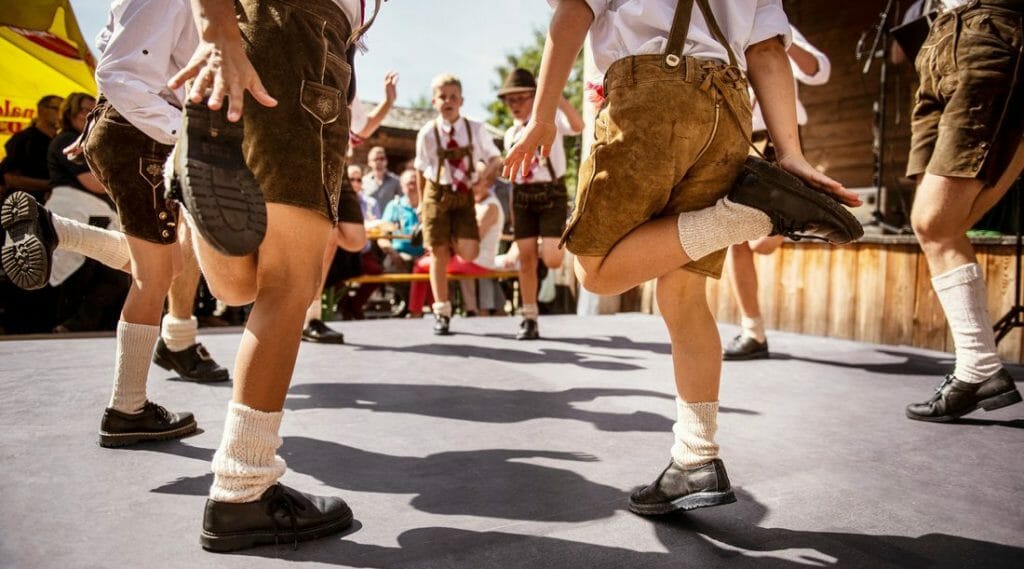 © SalzburgerLand Tourismus, Markus Berger
Get your Dirndl and Lederhosen out of the closet
When the village festivals and parades begin during Salzburg's Harvest Festival, then traditional costume is also in high season. Every region and every valley has its own peculiarities, which are often only recognisable to the trained eye. These traditional garments are joined by contemporary creations from local production, which give this traditional craft a new shine, such as the noble pieces from Gössl Tracht Manufactory. There is plenty of opportunity to get your Lederhosen out of the closet during the Harvest Festival. For example, at the Harvest Festival on 22nd September in St. Martin bei Lofer or on the 17th October at the Traditional Customs Club in Faistenau. For city-lovers, the Rupertikirtag (22nd to 26th September) in the city of Mozart is an ideal opportunity to slip into your traditional costume once again.
Learn the brewing craft
Beer belongs to SalzburgerLand like the Grüner Veltliner wine does to the Wachau. To this day, there are dozens of breweries in Salzburg where the old craft of beer brewing is upheld and given new life. The Stiegl Brewery is Austria's largest private brewery, located in the city of Mozart, and has been family-owned for 530 years. They even produce a special beer during the Harvest Festival called the Herbstgold. In the Stiegl Brauwelt, beer fans can immerse themselves daily in the history of beer brewing and taste the diverse products from Austria's largest private brewery. A must see is also the traditional Hop Harvest Festival at the Trumer Brewery on 11th September in Obertrum. Or the small but fine Brewery Festival on 2nd October at the Schmaranzgut in Dorfgastein.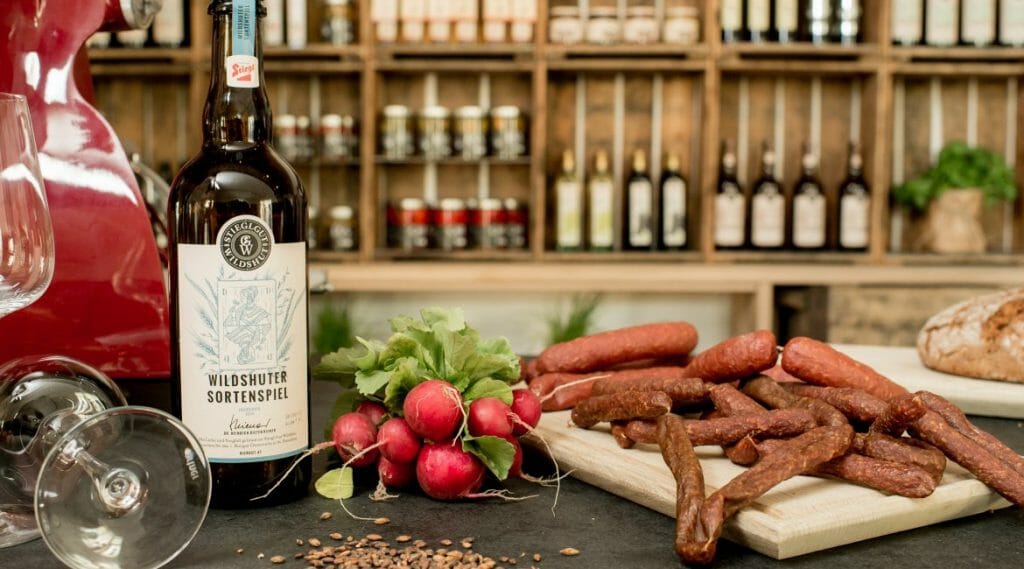 © Marco Riebler
Learn to bake bread
It is grey, has a greasy consistency and smells of apple vinegar. What at first glance does not look so appetising at all is the basic ingredient for one of the most important cultural products in SalzburgerLand. Of course, we are talking about Sourdough, which serves as the basis for the bread that is still baked in Salzburg today, just as it was hundreds of years ago. When one talks about Sourdough, bread fans from all over the world go into raptures. After all, each Sourdough is unique in its composition. But although it is a high art, anyone can learn how to bake bread. For example, at the regular bread baking seminars with Rudi Pichler at the Stiegl Biergut in Wildshut. Or while baking bread with master baker Franz Loidl in Obertrum. If you have always wanted to bake bread in a wood oven, the organic farm Dietlgut in Piesendorf is just the right place for you. Baking takes place there every week during the Harvest Festival, just like back in grandmother's day.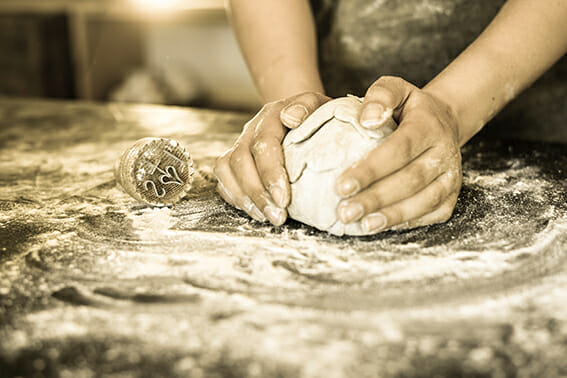 © Dieter Sajovic – Baking bread in Wildshut
Listening to a classical concert on the Alm
When it comes to music on the alpine pastures, most people probably think of cowbells, yodels and accordions at first. But classical music? Hardly! The fact that this mixture can be particularly attractive is shown by a very special series of concerts. At the Gasteiner Alm:Klassik from 22nd August to 31st August, the alpine huts become a hotspot for music lovers and classical music fans. And also at the Jazzfestival Saalfelden (16th August to 22nd August) there are free alpine pasture concerts every year.
Tracking down health by the wayside
Not only in Salzburg's farmhouse gardens are there all sorts of delicious and healthy things to discover, but also on Salzburg's alpine pastures health grows along the path. Nowhere is this more evident than on the Herb Pastures of the Hochkönig. Recently, a very special culinary offer has been created, where together with top chef Vitus Winkler, the 16 alpine innkeepers have created unique herbal dishes. This makes a refreshment stop even more enjoyable! But that's not all, because during the Harvest Festival there are countless opportunities for farmhouse garden fans. For example, on the Seeham Bee Adventure Trail, everything revolves around the fascinating world of honey, while in Krimml you can learn how to stir your first own healing ointment made from forest ingredients.
More tips and inspiration for your holiday can be found on www.bauernherbst.com. Enjoy the golden autumn time and experience the magic for yourself when tradition, nature and enjoyment merge in SalzburgerLand – because that's what we live for.
*NOTE: Due to the current Covid-19 situation, not all businesses may be open and some experiences and events may not take place. Therefore, please always check beforehand on the organiser's websites about possible postponements. Our guide gives you an overview of the current situation and provides information for a relaxed and safe holiday in SalzburgerLand. (safe.salzburgerland.com)