When the days get longer, the sun noticeably gains strength and even the birds slowly return home, then spring is in the air and the Sunshine skiing in SalzburgerLand is approaching. This is a time that is characterised not only by the re-awakening of nature, but is also especially suitable for enjoyable skiing. Still perfectly prepared slopes and guaranteed snow until after Easter ensure that this time enjoys particular popularity among skiers.
No wonder, when you think of the glorious mornings where you glide across the slopes, the midday hours spent relaxing in the sun at one of the huts and the early evenings, where you can enjoy the already mild temperatures down in the valley to the fullest. Because one thing is clear – Easter in the SalzburgerLand Mountains takes you to the sunny side of life, and not just in the proverbial sense.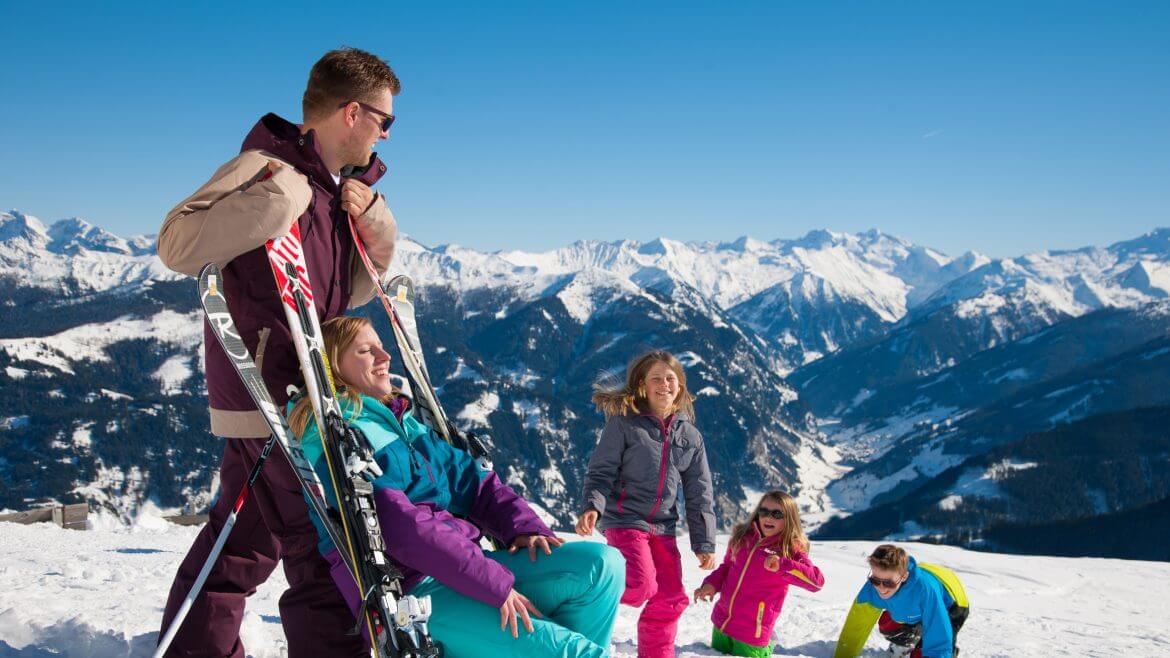 © Grossarltal, Gruber Michael, Sunshine skiing in the SalzburgerLand Mountains
Easter Traditions in SalzburgerLand
Whoever thinks that life at Easter mainly takes place on the slopes and in the ski huts has not reckoned with the people here in SalzburgerLand and their extremely living traditions. Some traditions are ancient pagan customs and sometimes there are ancestral fertility rituals and high church holidays. All these festivals and celebrations in SalzburgerLand always offer however the chance to dress-up and live the high life among the people.
Especially around Easter, many of these traditions are popular among not only us locals, but also provide great variety for our guests. Some of these popular traditions are the Palm Bush binding, the Palm procession with the Palm donkey ride, Mount of Olives singing, and colouring and then cracking the Easter Eggs. The Lungau Easter fires, which brighten the sky and are visible from far off in the night of Easter Saturday into Easter Sunday, are especially spectacular and date back to the pre-Christian period. They are an expression of joy at the birth of the Lord, and the desire for the re-awakening of nature.
Tempting Spring Packages in SalzburgerLand
Sunshine Skiing in Zell am See-Kaprun
Skiing experts and enthusiasts, families and also skiing beginners all really get their money's worth in the three ski resorts of the Zell am See-Kaprun Region, with a total of around 140 kilometres of slopes on the Kitzsteinhorn Glacier, the Schmittenhöhe and the Maiskogel. The Sunshine Skiing package is available from 14.5 to 3.6.2018 and promises wonderful hours of sunshine in one of the most beautiful regions in the world. For 3 nights, you pay from €202 in an apartment or from €307 per person in a *** Hotel double room. Included are a 3-day ski pass for all operating ski lifts in Zell am See-Kaprun, 3 day ski rental (or with your own equipment you get 50% off a ski service) as well as a €15 discount at the local ski school (until Easter 2018).
Info: Zell am See-Kaprun Tourismus GmbH | Brucker Bundesstraße 1a | 5700 Zell am See | Tel. +43 6542 770-0 | www.zellamsee-kaprun.com
Ski amadé: 4=3 PACK
Four days skiing, four nights in a hotel, and only pay for three days – that is the concept of 4=3 in Ski amadé. The offer is valid for adults in selected establishments in all Ski amadé regions in the pre and post season, as well as on selected dates in January, March and April 2018.
Info: Ski amadé | Prehauserplatz 3 | 5550 Radstadt | Tel. +43 6452 4033366 | www.skiamade.com
Ski amadé: Ladies Week
During the Ladies Week from 17.3 until 24.3.2018, whoever arrives as a pair and books a week package in a double room in selected accommodation (7 nights for 2 people), will get a free 6-day ski pass under the "1+1 Free" motto. A varied program with a ski guide, ski tests, concerts and fashion shows completes the Ladies Week.
Info: Ski amadé | Prehauserplatz 3 | 5550 Radstadt | Tel. +43 6452 4033366 | www.skiamade.com
Ski-Specials in the Salzburg Sports World
Pure sporting pleasure awaits winter athletes in the eight towns of the Salzburg Sports World. Everyone will find their own special ski paradise here, whether on a family-friendly slope, a fast paced World Cup run, a Freeride circuit or on a floodlit trail. Last minute planners will be greeted by particularly attractive Ski Specials holiday offers – such as 7 nights with breakfast in a B&B in Flachau, including a 6-day ski pass for Ski amadé for the price of only €487 per person in a double room.
Info: Flachau Tourismus | Hermann-Maier-Platz 1 | 5542 Flachau bzw. Salzburger Sportwelt | Hauptstraße 159 | 5542 Flachau | Tel. +43 6457 2929 | www.salzburgersportwelt.com
Pleasurable Skiing Days in the Großarl Valley
Escape the daily humdrum and enjoy a break in the snow – pleasurable skiing days in the Grossarl Valley are perfect for a winter getaway. The package includes 3 nights selected accommodation as well as a 2-day ski pass for Ski amadé. Arrival is not fixed to any day of the week and the package can be booked directly with the respective accommodation between 1.12.2017 and 8.4.2018. This short trip costs from € 162 per person in a holiday apartment without meals, from €183 in a B&B, from €288 in a *** Hotel including half-board and from €318 in a **** Hotel including half-board.
Info: Tourismusverband Großarltal | Gemeindestraße 6 | 5611 Großarl | Tel. +43 6414 281 | www.grossarltal.info
The Gastein Valley: Ski & Spa Weekend
What about some skiing pleasure on the slopes in the morning and relaxing in the afternoon in the 33 degree warm thermal water of the Gastein Spas? The Ski & Spa Weekend package offers pure recreation. It is valid from 17.3 to 1.5.2018 and includes 3 nights in the selected accommodation category, a 4-day ski pass for Ski amadé, as well as a 3 or 4 hour entry ticket (3hrs in Bad Gastein Rock Spa, 4hrs in the Gastein Alpine Spa) to one of the Gastein Spas. From €282.50 per person, with breakfast.
Info: Gasteinertal Tourismus GmbH | Tauernplatz 1 | 5630 Bad Hofgastein | Tel. +43 6432 3393-0 | www.gastein.com
The Hochkönig Region: Culinary Ski Weeks
The Hochkönig Region is well-known for its excellent cuisine. Whether on the ski huts or in the restaurants, the dishes are versatile and down-to-earth, tasty and healthy at the same time. Here you can enjoy skiing and dining at particularly attractive prices during the "Culinary Ski Weeks" of 6.1 to 3.2, and 17.3 to 8.4.2018. The package includes 7 nights in the selected category, a 6-day ski pass, 20% discount on ski rental, a one-off Kasnock'n meal with toboggan hire, a fondue or Tartar's hat evening, as well as a Sundowner cocktail with Austrian finger food (included only in March). Prices from €599 per person in a B&B. At the same time, the offer can be booked without the ski pass with the culinary winter hiking weeks available from €444 per person in a B&B.
Info: Hochkönig Tourismus GmbH | Am Gemeindeplatz 1 | 5761 Maria Alm | Tel. +43 6584 20388 | www.hochkoenig.at
Powder Snow Weeks in Obertauern
Obertauen boasts over 100 km of ski slopes from an altitude of 1,630 to around 2,300 meters, with a Fun Park and cross-country skiing trails providing diverse winter sports pleasure. The Sun & Fun Weeks guarantee springtime skiing days with top-class snow conditions and mountain huts open until the beginning of May. Attractive offers in the hotel of your choice and exciting events await you in the spring.
Info: Tourismusverband Obertauern | Pionierstraße 1 | 5562 Obertauern | Tel. +43 6456 7252 | www.obertauern.com
SkiPLUS Weeks in Lungau
The three ski resorts of Katschberg-Aineck, Grosseck-Speiereck and Fanningberg provide perfect winter fun with over 150 km of slopes in the Lungau region.  During the SkiPLUS Weeks in LUNGAU, from the beginning of the season to 22.12.2017, from 6.1 to 2.2.2018 and from 10.3 until the end of the 2018 season guests purchasing at least a 4-day SkiLungau ski pass get a range of discounts. These include, among other things, approx. 15% discount on the ski pass price (high season) or on ski service or ski rental, 10% on a skiing lesson, as well as other attractive discounts.
Info: Ferienregion Lungau e.V. | Rotkreuzgasse 100 | 5582 St. Michael im Lungau | Tel. +43 6477 8988 | www.lungau.at
Ski Lion Package in the Saalbach Hinterglemm Leogang Fieberbrunn Ski Region
Over 270km of slopes and 70 modern cable cars guarantee comfort, depth and diversity in winter in the Saalbach Hinterglemm Leogang Fieberbrunn Ski Region. From gentle slopes with wide carving Pistes down to the Black World Cup run, the ideal terrain awaits each and every winter sports enthusiast. Packages are available from € 415.
Info: Saalfelden Leogang Touristik GmbH | Mittergasse 21a | 5760 Saalfelden | Tel. +43 6582 70660 | www.skicircus.at
Wildkogel Arena Neukirchen & Bramberg: Snow Waltz – The Family Package
The family-friendly ski area of the Wildkogel Arena, in the Hohe Tauern National Park holiday region holds 61 kilometres of slopes and invites you to the Snow Waltz. This holiday package includes 7 nights in the chosen category, a 6-day ski pass, either a free skiing lesson for 3 whole days or 5 half days, or 3 half days in the guests' kindergarten (from 2.5 years old), or a toddler skiing lesson (3 to 4 years), or a Snowbike course and rental, or a guided day ski tour along with other perks. This offer is available from 3.3 to 17.3.2018 in a private B&B, or an Inn with breakfast from €490, and also in a *** Hotel from €580 per person in a double room.
Info: Tourismusbüro Neukirchen | Markt 171 | 5741 Neukirchen am Großvenediger bzw. Tourismusbüro Bramberg | Stoitznergasse 3 | 5733 Bramberg am Wildkogel | www.wildkogel-arena.at
Rauris Valley: Attractive Family Weeks
The Family Weeks in the Rauris Valley are really family-friendly. Children born in 2002 or younger get a free ski pass for the Rauriser high alpine tracks ski region, with the purchase of an adult ski pass for the same duration! The Family Weeks are available from 3.3 to 24.3.2018 and include either 3, 5 or 7 nights in the chosen category along with a 2, 4 or 6-day ski pass. The package with 3 nights is available from €170 per person in a *** Hotel and from €286 per person in a **** Hotel.
Info: Tourismusverband Rauris | Sportstraße 2 | 5661 Rauris | Tel. +43 6544 20022 | www.raurisertal.at
Lofer Alpine World Ski Days in the Salzburger Saalach Valley
The Lofer Alpine World offers particularly ideal slope sections for families. Here, there is not only a children's area with ski lesson options in the valley, but also high up and easily accessible by gondola there is a children's area with magic carpet etc. The Highlight: with 2 full paying adults, 1-2 (own) children up to 12 years old go free in the Lofer Alpine World!
Info: Salzburger Saalachtal Tourismus | 5090 Lofer 310 | Tel. +43 6588 8321 | www.lofer.com
Holidays 6.0 – in the Dachstein West Ski Region
The starting towns of Gosau, Russbach and Annaberg provide the connected Dachstein West Ski Region with beautiful panoramic slopes, numerous huts for a refreshment and excellent value for money. Between 13.1 and 20.1, as well as from 17.3 to 24.3.2018 all children under 6 years old can conquer the slopes free of charge. With the booking of 7 nights including a 6-day ski pass for one adult, the children get 7 nights (Sat to Sat), a 5-day ski course (Mon to Fri) and 6 days ski rental (skis and boots) free of charge.
Info: Tourismusverband Annaberg-Lungötz | 5524 Annaberg-Lungötz 22 | www.annaberg-lungoetz.com sowie Tourismusverband Rußbach | Rußbachsaag 22 | 5442 Rußbach am Pass Gschütt | www.russbach.info
Top Events at the end of the season
Just like at the start of the season, it's already a long tradition to celebrate the end of the winter season in the spring with great events in many places in SalzburgerLand. Everyone is guaranteed something special with all the events ranging from top-ski touring races, the highest Farmer's Market in the Alps, and onto the world-famous Salzburg Easter Festival. Here for you, we list the best events for the end of winter in SalzburgerLand.
The highest Farmer's Market in the Alps in Ski amadé
10.03 to 17.03.2018
In Ski amadé, the highest Farmer's Market in the Alps takes place. With skis, one goes from hut to hut in pure sunshine. Discovery and enjoyment is at the top of the 'menu' here with local producers exhibiting their regional produce directly at the ski huts. www.skiamade.com
Rauris Literature Days
04.04 to 08.04.2018
Since 1971, modern literature from the entire German-speaking world can be experienced here in a unique way in the context of the Rauris Literature Days. Authors and avid literature lovers hold readings and discussions in traditional Inns, ancient lounges or on the mountain. The Rauriser Artist Award is one of the most prestigious prizes for prose first editions in the German speaking world. www.rauriser-literaturtage.at, www.raurisertal.at
Salzburg Easter Festival
24.03 to 02.04.2018
Even if it does not take place in the many ski resorts in the mountains, the Salzburg Easter Festival should not be missed under any circumstances. If you are lucky enough to be in SalzburgerLand during the period of 24th March to 2nd April, then you really should make a trip to the City of Salzburg to witness this spectacle of classical music. The absolute highlight this year is Giacomo Puccini's Tosca in a staging by Michael Sturminger. www.osterfestspiele-salzburg.at 
Gamsleiten Criterion in Obertauern
13 + 15.04.2018
Already for the 12th time, Obertauern invites you to end the season with a very special treasure hunt. One of the most attractive ski slopes in Europe, the Gamsleiten 2 Adventure Slope gets stormed by hundreds of eager treasure hunters during the Gamsleiten Criterion. They search for a total of 30 treasure chests buried in the snow. And the Grand Prize? A brand new BMW X3! www.obertauern.com