Do you fancy a "Hatscha", in the sense of a long, multi-day hike? Then, Pinzgau in SalzburgerLand is the right place for you. Across 15 stages and a total length of around 390 km, you head through six beautiful regions. Whether beginners, families or experienced long-distance hikers – there is a suitable stage for everyone.
Pack your backpack, lace up your hiking boots and start hiking. Admittedly, those who have caught the long-distance hiking fever will need a little more preparation time. But once you are on the go, this unique feeling of freedom and light-heartedness lasts much longer.
In any case, the new Pinzga Hatscha really hits the spot for long-distance hikers. Because no matter which stage you choose, the nature experiences and magnificent mountains are second to none. Gentle alpine pastures alternate with high plateaus, high alpine sections lead over the most beautiful peaks in the region, the power of water shows itself in mystical gorges, and in between there are managed huts with hearty alpine cuisine to enjoy.
The Steinernes Meer, the Hochkönig, the breath-taking panorama of the Hohe Tauern, the Leoganger Steinberge, the border crossing on the Saaljoch between Tyrol and Salzburg are just a small taste of what awaits hikers along the Pinzga Hatscha routes.
The stages can be combined as you like and if at some stage you need a break, simply take the (hiking) bus.
Pinzga Hatscha Punch Card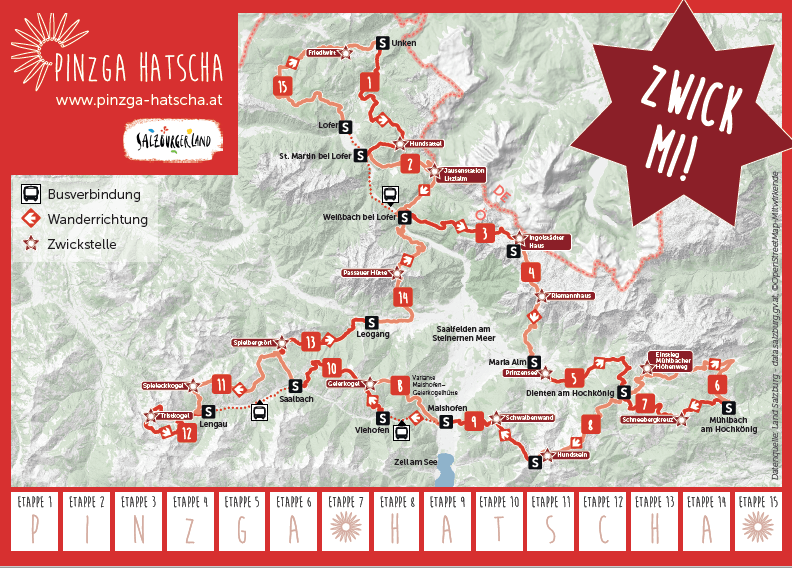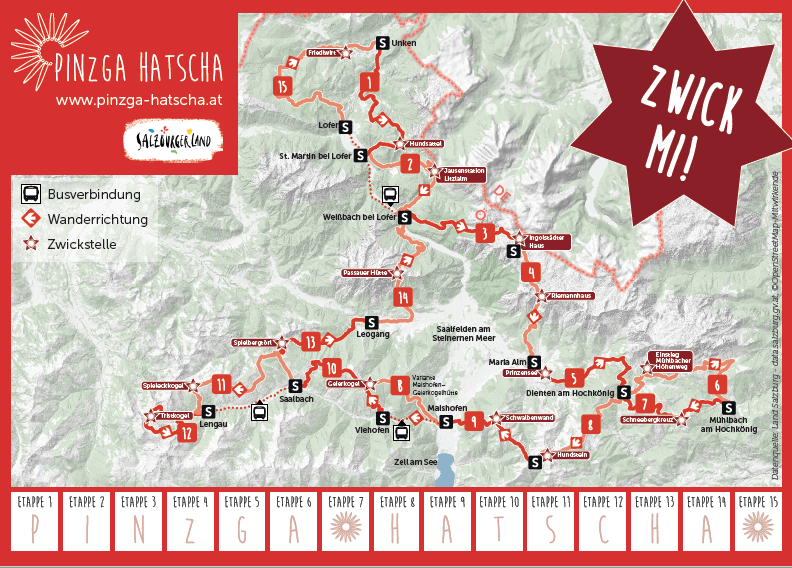 Do you want to see at a glance which stages and how many you have already completed? Then, get the Pinzga Hatscha Punch Card, which you can get at the tourism associations of the Pinzga Hatscha towns. With it, you can punch it at every stage and thus have an official confirmation of which stages you have already hiked.