if When you're in the natural oasis of Anif, it's hard to imagine that the city of Salzburg with its charming Old Town is so close nearby. Not only this, but another top attraction, Hellbrunn Gardens, can be reached comfortably by foot from Anif. Hardly any guests to Salzburg miss out on visiting this highlight, and you can easily spend an entire day there. At and around Hellbrunn Mountain, there's a zoo with more than 800 animal inhabitants, Hellbrunn Pleasure Palace, and the Trick Fountains, which deliver cooling, refreshing fun in the summer months. On top of that, there are the parks themselves with their ponds, statues, the Monatsschlössl chateaux, and imposing stone theatre.
Anif Climbing Park
Sporting activities await in the climbing park, the highest rope course in Salzburg. You can traverse from platform to platform across more than 100 varied stations, all with varying levels of difficulty. Younger guests can test their climbing skills in the lower-rope garden. After working up a sweat climbing, it's time to cool down, chill out, and relax at the Waldbad bathing lake, which is where the climbing park is located.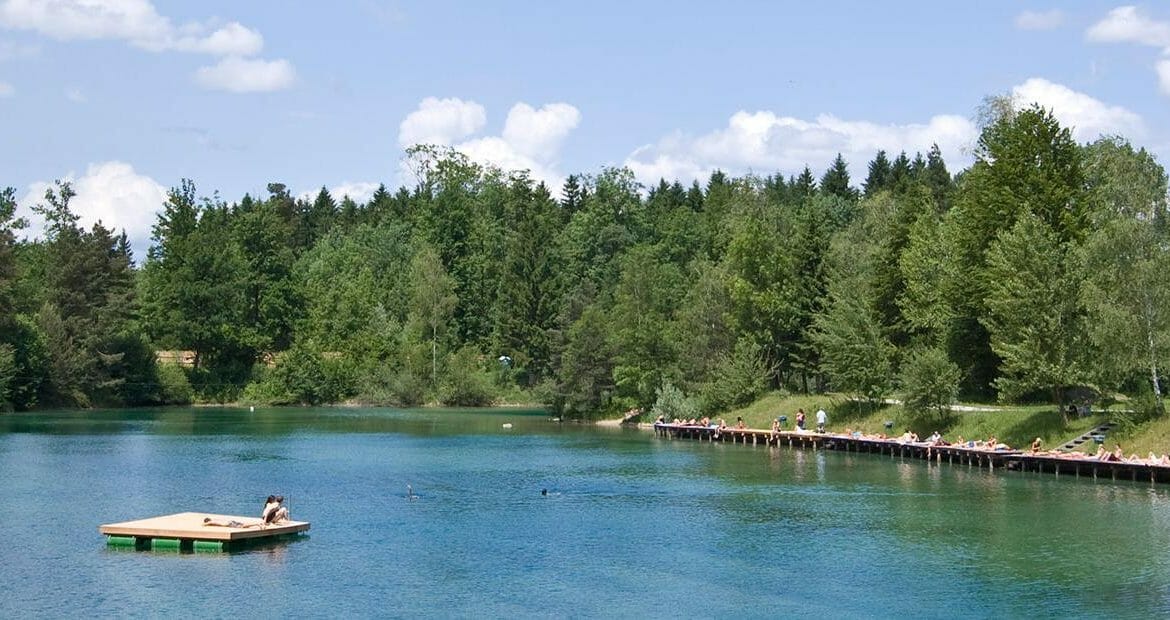 Waldbad bathing lake in Anif © Gästeserive Anif
Exploring with a bike
Anybody keen to explore the area around Salzburg on a bike has come to the right place in Anif. There are numerous bike trails, including the Mozart Cycle Path, in the near vicinity. You can take a relaxed cycle ride all the way into town along the Salzach River on the Tauern Cycle Path.
Insider tip
In the run-up to Christmas, the Anif Krampusses make their mischief. The atmospheric spectacle at the annual Hayloft Party in the Friesacher Hotel & Restaurant hayloft is particularly impressive.