#1 Bird Paradise Weidmoos
The Weidmoos is a nature reserve in northern SalzburgerLand and serves, among other things, as a retreat for many rare bird species. More than 150 different species have their home here and migratory birds also like to take a rest in Weidmoos. It is a refuge for many bird species that have become rare throughout Europe, as here they find ideal breeding and living conditions thanks to the mix of waters, willow bushes and reeds. The northern part of the Bird Paradise Weidmoos is reserved exclusively for birds. The rest of the nature reserve is accessible to the general public so they can experience nature and the impressive bird life in this old moor landscape up close. Since 2000, this former high bog has developed into a nature reserve. After the end of peat extraction here, active biotope management had to be used to prevent the forest from completely re-absorbing the area. This would have meant the habitat that the bird species need in the areas around the water would have been lost. Through the cooperation of various interest groups and local farmers, this special habitat has been preserved to this day – for the visitors, but of course primarily for the birds. The designated themed trail through the Bird Paradise Weidmoos is about 1.5 kilometres long and leads over a viewing platform, bird watching stands and a viewing hill, as well as a 12-metre-high observation tower in the nature reserve.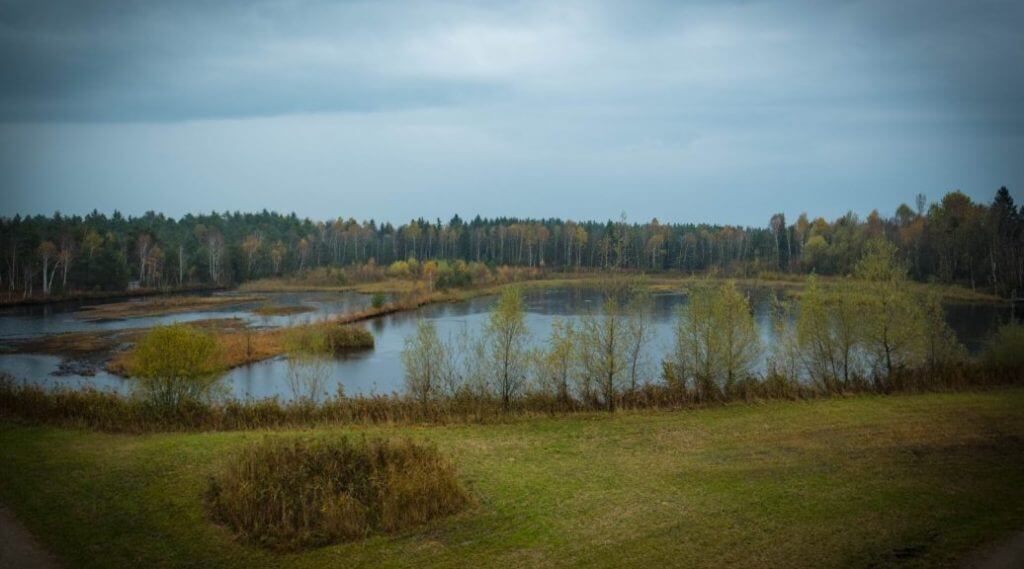 Bird Paradise Weidmoos ©knaro
#2 Hohe Tauern Panorama Trail
Long-distance hiking with a clear conscience. This combination of comfortable arrival by train and an impressive hiking route is offered by the Hohe Tauern Panorama Trail in the Hohe Tauern National Park holiday region in SalzburgerLand. Over a total of ten daily stages, hikers cover a distance of around 150 kilometres on foot from the starting point at the foot of the Krimml Waterfalls to the Schmittenhöhe high above Zell am See. The trail leads right through the Hohe Tauern National Park region and includes breathtaking views of Austria's highest mountains. On the way are natural spectacles, interesting exhibitions, well-kept national park towns and attractive excursion destinations that you can visit. Using the local cable cars and practical shuttle services at each of the stages, as well as a bookable luggage transfer, you enjoy maximum comfort. So, you can easily do without your car for this hiking holiday in SalzburgerLand and have a clear conscience.
#3 Water Level
Water is an important commodity in our lives. Without water there would be no vegetation – for the flora and fauna as well as for us humans, water is an elementary elixir of life. That's why we in SalzburgerLand attach great importance to water quality, both now and for the next generations. Because we have a social responsibility towards our children to deal with the environment and its resources in such a way that even many decades from now, SalzburgerLand will still be one of the regions with the best water quality in the world. The many water cooperatives and the mostly volunteer employees tirelessly ensure that this remains the case.
#4 Rauriser Hochalmbahnen Cable Cars
The Rauriser Hochalm Cable Cars are Austria's first climate-neutral ski resort and show how skiing can be environmentally friendly and climate-friendly in the future. With climate certificates, the operators compensate for their CO2 emissions, and while you carve huge turns in the snow from the summit lift to the Heimalm, your ecological footprint remains very small. Many small steps make a big difference – just like our own hydropower plant. At the Kreuzboden valley station, water drives the turbine and generator and sends green electricity into the lines to cover about three quarters of the electricity consumption. The ski bus, which is financed by the Hochalm Cable Cars and the tourism association, takes both locals and guests from Rauris and the surrounding villages directly to the lift entrance. Employees come to work on the company transport, and all this is how the Rauris Hochalm Cable Cars make a sustainable winter holiday a reality.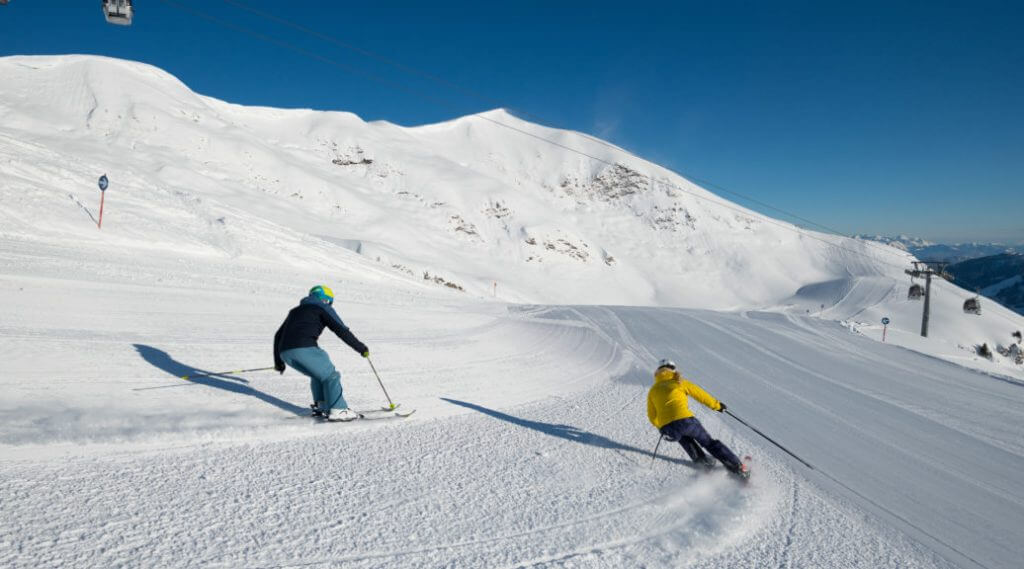 Skiing with a good feeling © Gruber
#5 Katschberg climate mountain
It's time for change – the people of Katschberg agree! And because many of them live from tourism and know that this is only possible if nature is intact, they take care of Mother Earth and carefully handle the available resources. In this way, the Katschberg is to become a climate mountain with the help of a very special earth. The so-called "e4f climate earth", or "climate earth" for short, stores CO2 for 1,000 years and with it gradually enriches pastures, fields, ski slopes and flat roofs are enriched with "climate earth". This creates huge water and nutrient reservoirs for both nature and wildlife, and also promotes the build-up of humus which binds CO2. In addition, the biomass heat and power plant, the "E-Tschutschu" railway, along with car-free travel for guests and other measures will help to move Salzburg's Lungau region closer and closer to the goal of becoming CO2-neutral by 2030 at the latest. Around 100 raised beds enriched with "Climate Earth" between Aineck and Gontal connect guests and locals with the region through raised bed sponsorships. Herb and vegetable hikes along the raised bed themed trails, as well as workshops on filling, planting and harvesting the raised beds already prove how intensively sustainable projects are being worked on and how environmental protection, sustainability and tourism can be linked. Measures also include protecting and promoting the bee population by creating wildflower meadows.
#6 Living consciously in Saalfelden Leogang
Those who holiday in SalzburgerLand want to experience nature and enjoy breathtaking views, hikes and excursions to alpine huts and lakes. A perfect region for a consciously active holiday is Saalfelden Leogang. Here, switching off in nature is particularly good. Whether you are in the forest, hiking or doing both combined – the motto here is "First take a deep breath". Then, you can truly enjoy forest bathing with light-sporty but also creative and meditative exercises to strengthen awareness, "simply hiking" between the rugged stone mountains and gentle grass mountains, or a treat for the senses in the sensory adventure park at the middle station of the Asitz-Bahn in Saalfelden Leogang. In this way, you not only spend your holiday in a varied way, but also get to know new facets of relaxation through the conscious experience of nature.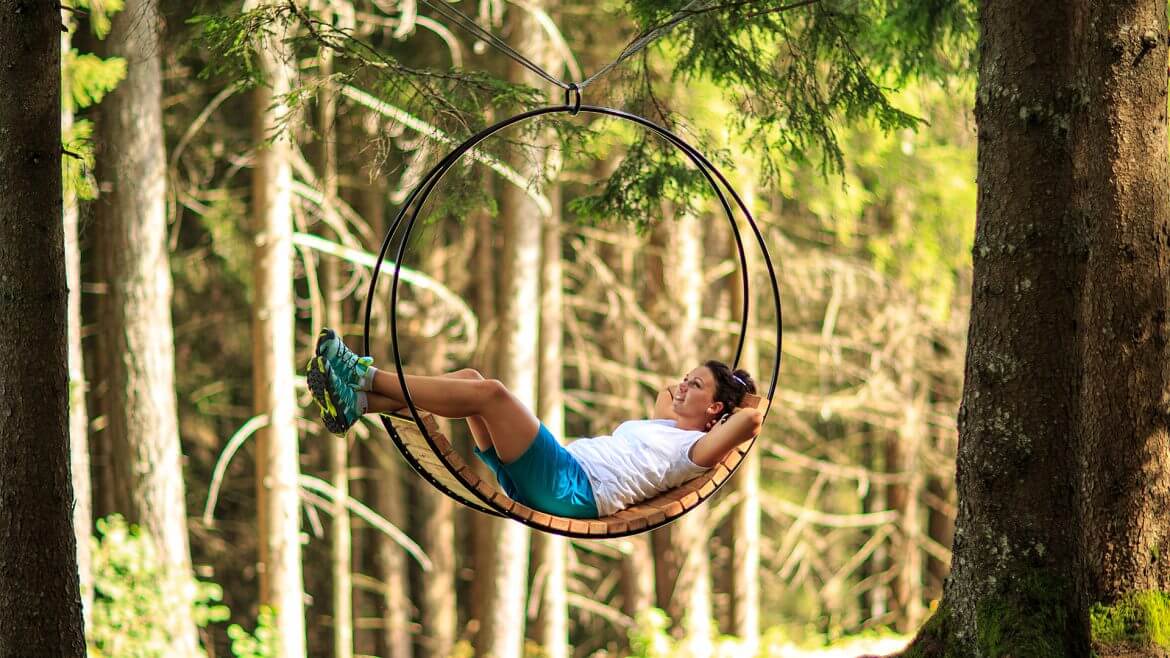 © Saalfelden Leogang Touristik, Florian Lechner – Forest swing in Saalfelden Leogang